Scientists and innovators have found technological substitutes or machines for assisting, at times even replacing humans in almost all domestic chores.
The increasing demand for flatbread-based dishes has innovators constantly working to bring the most efficient and fun flatbread or roti making machines in the market. A major reason for this is the complexity and intricacy of the process of making rotis. It requires the ability to make accurate judgments of the quantity of ingredients as well as the skill to flatten and roll dough balls into discs and roast each roti for the puffed and steaming food staple. Similar to the Indian roti, every form of flatbread had its unique process of preparation varying in levels of difficulty.
Mostly, roti making is a skill acquired over a period of time. It is one of those rare human skill sets that are rather complex for a machine to replicate. Moreover, every culture has devised its own way of roasting rotis. In fact, every household has its own personalized methodology which they follow.
Therefore, having one roti maker that fits the requirement of all is quite difficult for technology and appliance companies to design. But, despite these challenges, some attempts have been made to create inventive roti makers. 
Here's a look at some of them currently available in the market:
1) Rotimatic – an automatic roti making robot
Enabled with AI and IOT, Rotimatic is much more than an average kitchen appliance and is created for futuristic kitchens. The Artificial Intelligence and the IoT infrastructure facilitates it to upgrades and auto-corrects itself with use.
This roti maker is run by a 32-bit microprocessor which directs the functioning of 10 motors, 15 sensors, and 300 parts simultaneously to fashion the perfectly circular and wholesome flatbreads.
Rotimatic is the size of an average microwave. It has a sleek exterior and can easily fit into your kitchen with other appliances. This roti making smart machine is not just restricted to making rotis but can also be used to make tortillas, pizzas, and puris, among other varieties of flatbread.
The cutting edge technology that this latest breed of roti makers is equipped with is no less than magic. They are already on their way to become the future of flatbread/roti/chapati making industry.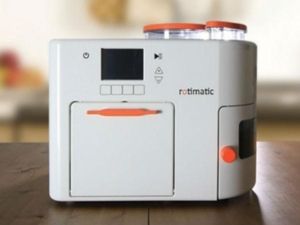 2) Hamilton Beach 80200 Flatbread Meal Maker Bread Press and Skillet
The makers claim that this flatbread maker can roast over twenty kinds of flatbreads including Tortilla, chapatti, and naan. This 1440 watt appliance can transform a ball of dough into nine inches round flatbread on the non-stick removable paddle in its lower section. The appliance also has a nonstick skillet on top with a glass cover. The skillet has three settings starting from warm, medium and high for roasting.
Another interesting feature of this appliance is that it has a provision of either cooking or warming the fillings of the bread the appliance's skillet while the flatbread itself is baking below. It the level of ease of baking pizza, crescent rolls, biscuits, cornbread, breadsticks, etc, a step further by designing the product to be able to use frozen dough as well.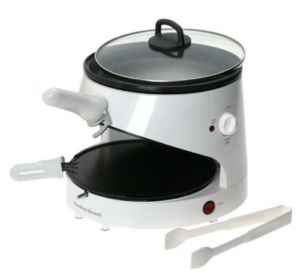 3)  Fortune Engineering Fully Automatic Roti Machine
This roti making mega machine has the capacity of making 700 rotis per hour. It is designed for producing rotis in large numbers, and is more suited to industrial requirements than regular household kitchen. The company has been in the business for five years and has manufactured 46 products, and has and has a customer base that spans across 22 countries.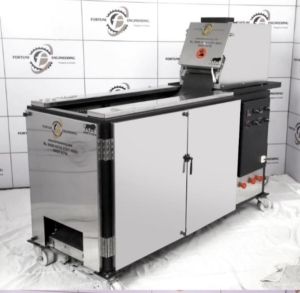 4) VillaWare V5955 Grand Wrap Tortilla and Flatbread maker
This is a 1000 watt appliance has a manually operable handle press for flattening the dough ball. It has built-in aluminum plates that roast the flatbread with uniform pressure and heat. It can make ten- inch flatbreads such as tortillas, roti, and pitas amongst other flatbreads.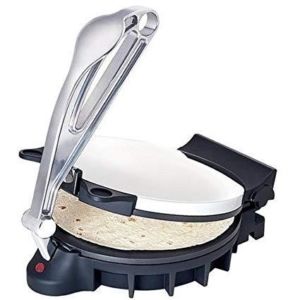 You can Rotimatic of your own from our official website or from our official Amazon listing.