The Right Arrangement: Using Your Refrigerator Right
You've done it, we've done it; we've all had that indescribable urge to look through our friends' refrigerators when we're invited over.
We'll more often than not find a snack to munch on that we otherwise wouldn't have to lay around in our own fridges, but perhaps there's a little more than just appetite to be scurrying through another person's refrigerator.
Curiosity; comparing eating habits, choice of snacks, and refrigerator layouts reveal more about a person than you'd imagine. The same for yours!
What do your friends think or say when they're ransacking your fridge? If you're looking to get organized but you're not quite sure how let us sort you out. Shelf or drawer? High or low? Here's the low-down on your fridge essentials:
There's a reason the word "consistency" consistently follows

eggs

. They do best where the temperature is most consistent – on the middle shelf. Better yet, leave them in the original cartons and don't transfer them to the fridge egg container.

You'd place

milk

on the top shelf for easier reach, but your milk bottles and cartons really should be on the bottom and all the way in the back where it's the coldest.

Similarly for your remaining dairy products, like

cheese

,

yoghurt

, and

sour cream

. Bottom, all the way in the back where it's the coldest. Word of advice, keep them accessible and visible so you never lose sight and mind of their expiration dates.

As for your

packaged raw meat

, have them in the coldest bottom shelf, usually in a drawer that comes with most fridges. That way, if the meat juices drip, it doesn't have to contaminate the rest of the fridge.

Your

vegetables

stay fresh longest with a bit of humidity. Vegetables stay fresh longer with a bit of humidity. The drawer labelled vegetables or high humidity is the moistest spot in the fridge. Be sure to store them in their original packaging on in a loosely tied plastic bag.

As for

fruits

, they belong in the low humidity drawer, often marked as the "crisper". Again, leave them in the original packaging or in a loosely tied plastic bag, though citrus fruits are fine without a bag. Protip: Do not wash your fruits and vegetables until it's time to use them; the moisture encourages bacteria and mould growth, and we don't want that!

With

deli meats

, you should pop them in the shallow meat drawer, which is a little colder than the rest of the fridge (or the bottom shelf if you don't have the drawer!)

Back to dairy, your

butter

and

soft cheeses

don't have to be the coldest so you can keep them in the dairy compartment on the door, also the warmest part of the fridge. Be sure to keep your soft cheeses in air-tight containers though!

What about

condiments

? Your sauces, dressings, and pickles are typically high in vinegar and salt, which are natural preservatives. That said, storing them on the kitchen door works just fine.

And

juices

? So glad you asked! If they're pasteurized, they can be stored on the door. If they're freshly-squeezed instead, store them on the bottom shelf.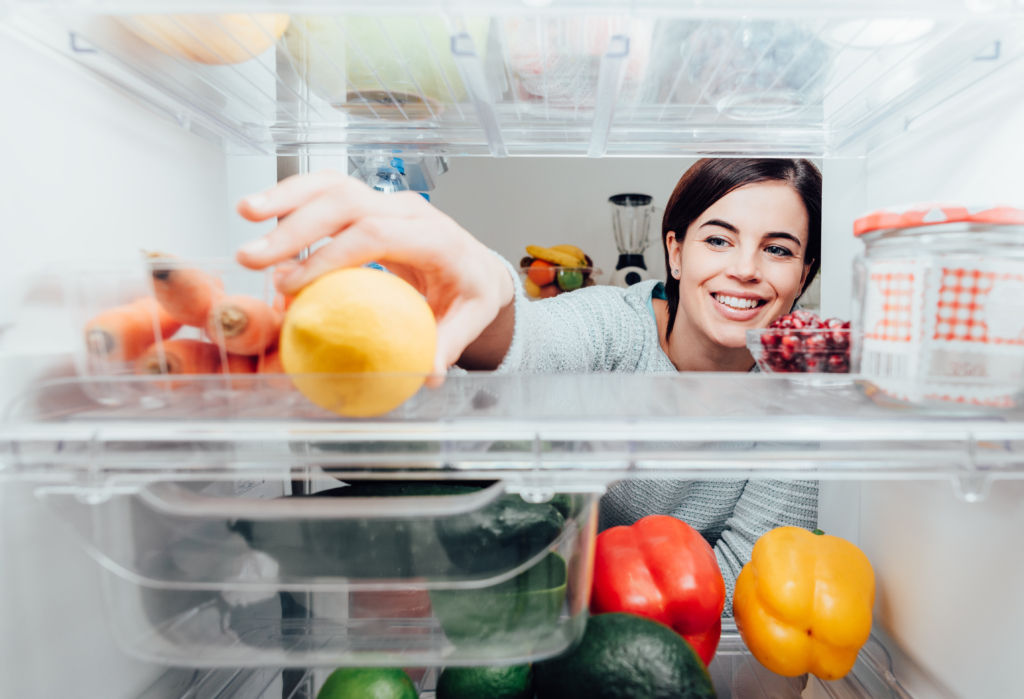 There isn't a right or wrong way to organize your fridge, per se, but we've shared with you common and best practices to extend the longevity of the food's quality, and consequently, its taste.
Besides, why not have some fun with your fridge? Organize them by color to make a statement the next time your friends open its door.
Want to know how to eat healthy food often by just sitting in your living room? Check out
our blog
and to place an order,
click here
.
Send us pictures of your newly laid out fridges!
The post The Right Arrangement: Using Your Refrigerator Right appeared first on Rotimatic.