Zimplistic's Rotimatic creates a unique business category: Pranoti Nagarkar and Rishi Israni
The kitchen is where robotics will flourish next, and Zimplistic founders – Rishi Israni and Pranoti Nagarkar – have laid down the path with Rotimatic for further tech evolution in this space.
We have all heard of the more or less ubiquitous rice cooker. Most South Asians have now become accustomed to using the numerous variants of the kitchen appliance for cooking one of the most popular stables of their diet – rice. The other favorite food staple of South Asians, roti, however, is still largely made by hand. And although the process of making this flour-water-oil flatbread may seem simple, it is quite the task. For someone who is not an expert in the art of making rotis, the traditional method of doing it is complex enough for them to choose quickly choose ready-made alternatives. Zimplistic's Rotimatic – a fully-automatic roti maker perfect for domestic use – has emerged as a game-changer for how we are accustomed to preparing the age-old recipe. 
Rotimatic simplifies daily life:
Pranoti Nagarkar, Founder and Co-CEO of Zimplistic, recalls her earliest memories of rotis being that of her mother laboring away in the kitchen to bring fresh rotis right off the pan to the table. Similar to most people who shoulder the responsibility of cooking chapatis, phulkas, or rotis, Pranoti recollects her mother too compromised on the time she could have spent with her family at the dinner table. Sadly, without investing adequate time and attention, the effort put into yielding soft and fluffy rotis goes to naught.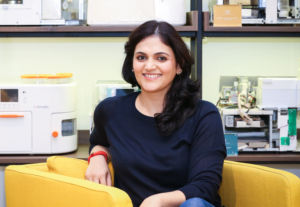 To understand this better, one has to consider the actions that go into making a roti. The dry and wet ingredients are carefully measured out in the correct proportion of the mix. The water added should preferably be of a certain temperature (warm) to facilitate kneading of the dough to the ideal consistency. After a period of rest, this dough is then evenly flattened into thin discs which are then roasted in a pan or directly over a flame. When cooking for an average of four people, the time taken for rotis could be well over half an hour. Rotimatic notably compresses this time down to a few minutes using automation.
The Inception of Rotimatic:
Pranoti experienced the struggle of making rotis daily first-hand and decided it was about time the roti-making process got a technological update. Thus, the combined efforts of Pranoti and Rishi came about Zimplistic's Rotimatic that recreates all the steps. Beyond the act of pouring flour, water, and oil into their designated compartments in the machine and pushing a few buttons, Rotimatic does not require any further user intervention.
The post Zimplistic's Rotimatic creates a unique business category: Pranoti Nagarkar and Rishi Israni appeared first on Rotimatic.