______________________________________
Jan / Feb 2017
______________________________________
 Highlights:  
Rotimatic roadshows in San Francisco and New York metropolitan area starting 18th Feb

On track with shipments, next batch of Early-February shipped yesterday, 10th Feb.

New orders for Rotimatic opening next week!
 We are in the US!
 Many of you have already started receiving your Rotimatic but for some of you, there is still a month or two to go. Well now to get your hands on Rotimatic you won't have to wait any longer. We are coming to your city!
 From 18th of Feb to 8th of March we will be organizing a few pop up events in the Bay area, California and in the New York Metropolitan area.
 On Sunday, 19th of Feb, we are organizing a special meet-up for all the preorder customers in the Bay Area, California. Even for those of you who have already received your Rotimatic, please do stop by, we'd love to meet you! 
If you are around, join us at the venue below and feel free to get your friends and family along!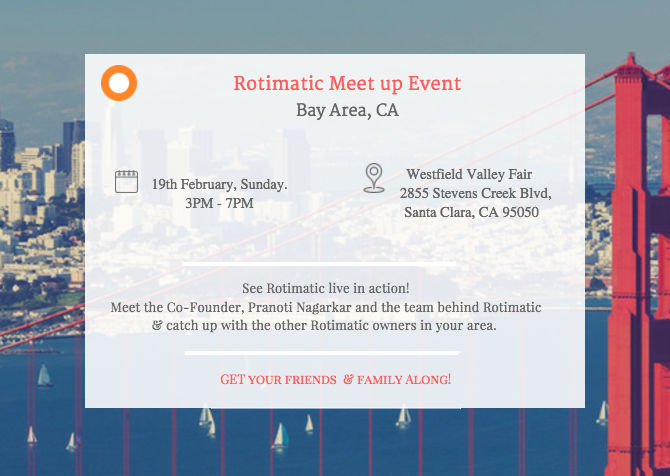 RSVP here : https://goo.gl/forms/Xu2V6Qyvfd93SmkH2
In case, you can't make it to this event, just drop by our pop-up store at:
Westfield Valley Fair,

2855 Stevens Creek Blvd,

Santa Clara, CA 95050

From 18th Feb – 8th March

Time: 9AM – 8PM (Mon – Sun)
We will be organizing similar events in the New Jersey post 21st of February. We will share more details in a few days.
Rotimatic Deliveries
We are happy to share that we have already shipped Rotimatic to all the preorder customers who were a part of November, December and January batch. We are on track with the next shipment i.e the Early February batch.
By now, all of you must have received the payment link and would also know details on the batch you are a part of. Incase any of you missed our email, please lookout for an email from [email protected] in your inbox or write to us at [email protected] and we will it to resend you.
Here is the shipment schedule table that will give you more clarity on the batches and the shipment timeline:
| | | | | | | | |
| --- | --- | --- | --- | --- | --- | --- | --- |
| Batch 1 | Batch 2 | Batch 3 | Batch 4 | Batch 5 | Batch 6 | Batch 7 | Batch 8 |
| November | December | January | Early February | February | Mid March | Late March | Mid April |
| (Shipped) | (Shipped) | (Shipped) | (10th Feb) | (Estimated 17th Feb) |   |   |   |
Post shipment, the exact delivery date will depend on the shipping option chosen.
You will notice that, as compared to the previous update, we have broken down the Feb and March batch into 2 each to streamline and expedite the process. We have also added the April batch for customers who haven't updated their details as yet. 
Rotimatic Reviews
Rotimatic is reaching more and more homes in the US. Here are some of the first reactions of the US pre-order customers. Special thanks to @Bhairavi @Rakesh and @Ghazala.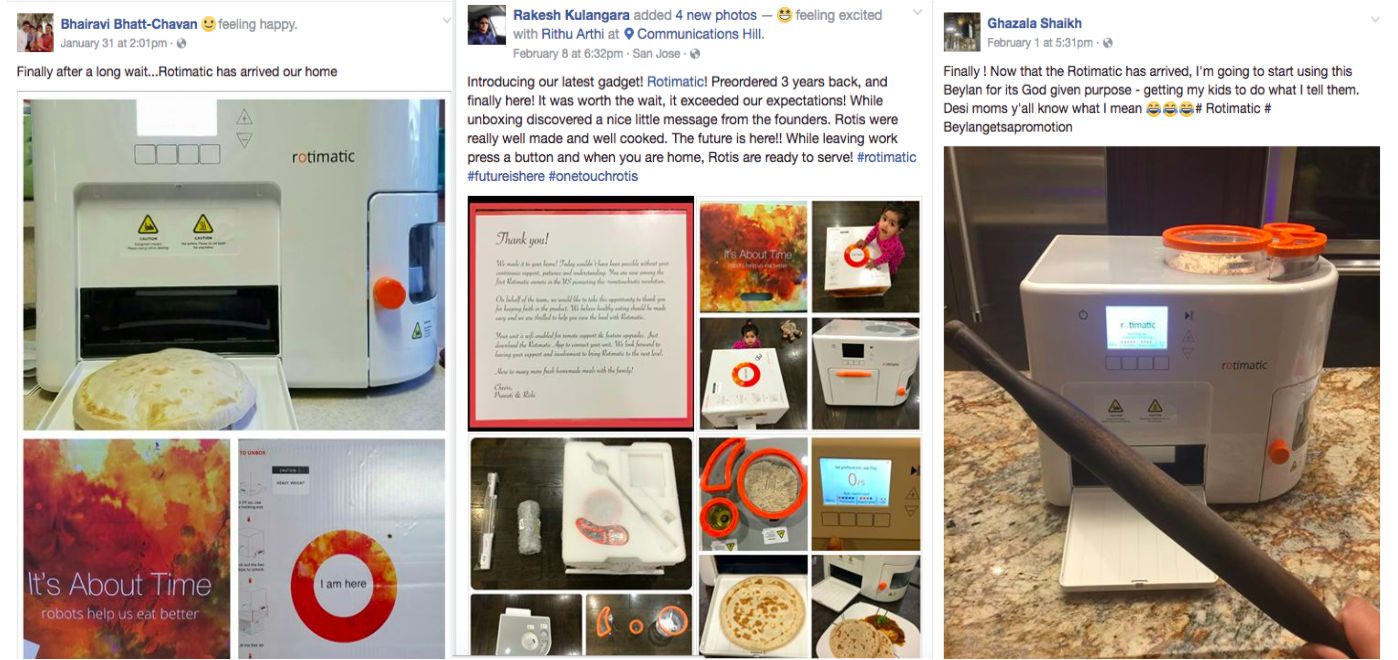 Some of the US users have been using Rotimatic for almost a month or two now. Curious to know how their #RotimaticLife is like? Here is what they have to say.  
To all of you who have shared your Rotimatic stories on Facebook,  Forum and on Instagram a BIG thank you from all of us at Zimplistic! Seeing how Rotimatic is touching your lives is really very encouraging for the entire team and is also helpful for all of them who haven't received their Rotimatic as yet.
Please do continue sharing your stories #RotimaticLife and feedback with us at [email protected]. We are constantly working on improving Rotimatic and your feedback is critical to take it to the next level.
New Orders Opening in the US!
We are really excited to share that after the first round of pre-orders in 2014, we are now finally ready to take new orders in the US!
New orders are opening next week and since the slots are limited, orders will be open by invite only. We will be sending emails to waitlisters based on the order in which they signed up.
However, since you all have been with us through the journey and supported us right from the early days, we will send you all a privilege link that you can share with your friends and family. They will no longer have to wait in the waitlist queue to get the invite link and thus get ahead in the delivery queue.
New orders will open at the price of USD 999. The price of USD 599 was a special pre-order price for all of you who supported us right from the early days. At this point it is important for us to take new orders to forecast the production in advance. The shipment for the new orders will only start May onwards, after we have shipped Rotimatic to all of you.
This is an exciting time for all of us with Rotimatic reaching thousands of homes in the US and the start of new orders. At this point we would just like to take a step back and thank all of you for the tremendous encouragement and support you provided throughout the journey. Today would not have been possible without you!
 Note :   
Recently we have been receiving a very high volume of queries from distributors and users from all parts of the world and this is overwhelming our system. In case you have written to us about your order, please understand that it may take us a few days to respond.
If you have a technical query regarding your machine that needs urgent attention, please connect with our support team through the 'Chat' option on your Rotimatic mobile App. Rotimatic app is available on iOS and Android phones.
We seek your patience and continued support.
______________________________________
December 2016
______________________________________
Highlights
First batch of US pre-order customers received their Rotimatic earlier this month.

On track with our delivery plan. Batch 2 to be shipped on 21st of December.

We will take another month to reach all of you with the payment links. But this won't affect the shipping schedules. Details mentioned below.

Feedback received from the first set of Rotimatic owners in the US has been good so far with no major issues. We have considered the feedback and it will be implemented in the next software upgrade scheduled to release on 18th of December.
Rotimatic first batch delivered!
We are really excited to share with you that Rotimatic is now in the homes of the first Rotimatic owners in the US!  They have been enjoying their life with Rotimatic for the past 2 weeks now and here are some of their first reactions. 
Special thanks to @Bismay @Haseeb @Rohit and @Namrata for sharing your Rotimatic moments.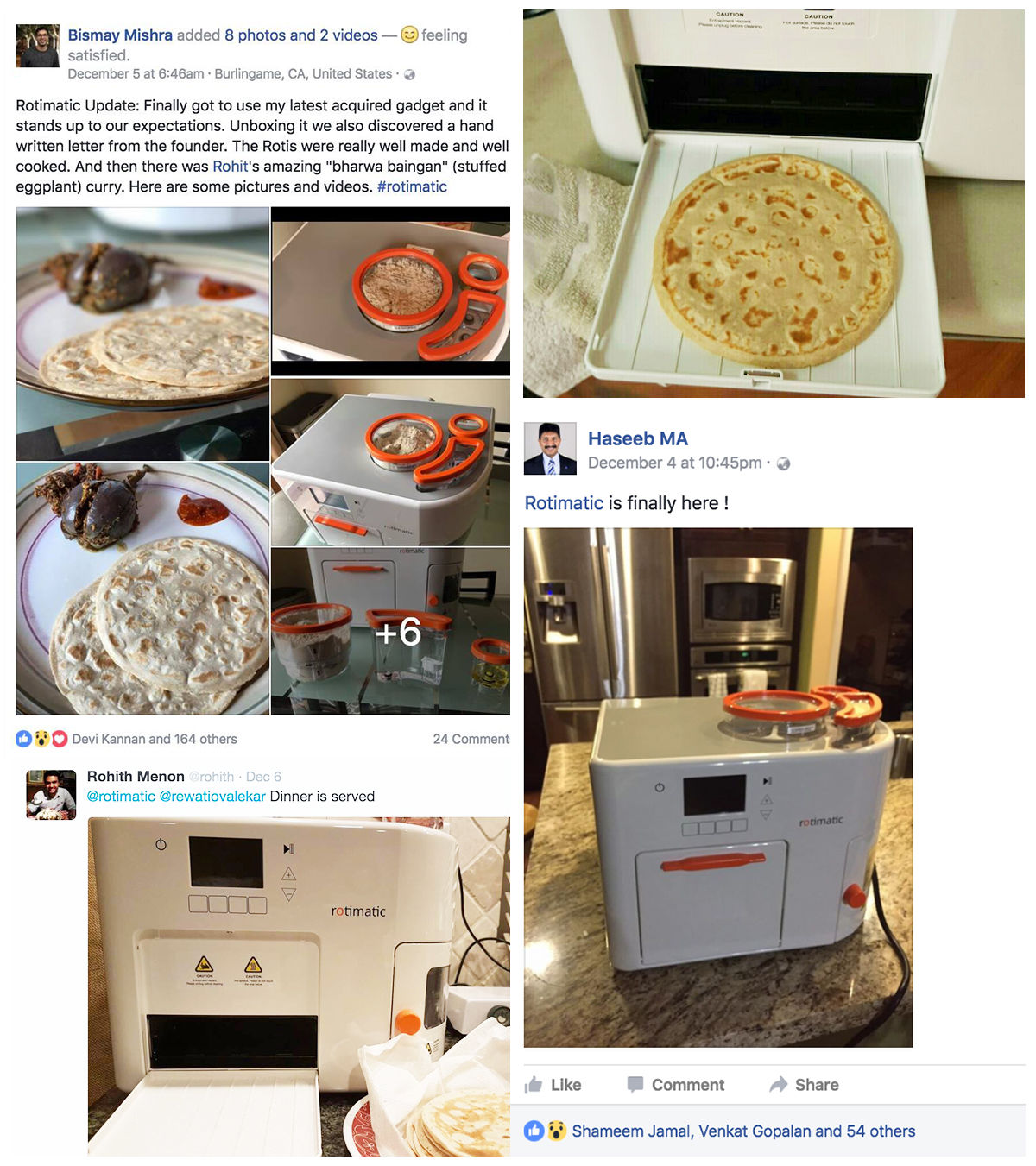 For the team here in Singapore, who have been working hard on making Rotimatic a reality for the last 7 years, hearing the stories of how Rotimatic is touching your lives in the US, is really very encouraging.
We also received some very constructive feedback from our first Rotimatic owners in the US and we have shared it below at the end of the community update for your reference.
For all of you who have received your Rotimatic, please do continue sharing your Rotimatic moments and feedback with us. Being one of the very first owners of Rotimatic in the US, your feedback is extremely valuable and will take us a long way in evolving the product.
Delivery Status
In the update last month, we had shared the following table with the delivery timelines.
Batch 1
Batch 2
Batch 3
Batch 4
Batch 5
Batch 6
November
(Shipped)
December
(21st Dec)
January
January
Feburary
March
We are happy to share with you that we are on track with the deliveries. We have been sending payment links to preorder customers based on their spot in the order queue and the slots for the December batch are now full.
Batch 2 – December deliveries
We plan to ship batch 2 on 21st of December. Earlier the plan was to ship it by 17th. But we have a new software upgrade releasing on 18th and we want to make sure that all of you who are a part of the December batch receive Rotimatic with the latest software. We have implemented the feedback received from our first batch of Rotimatic users in the US in this release. Therefore, we have delayed the shipment by 4 days. We hope you understand that we have taken this decision in the best of your interest.
For those of you who have already received your Rotimatic, please ensure you have connected your Rotimatic to the WiFi. When we push this upgrade to you, we will send you a notification on your App giving you details on what's changing and your Rotimatic will auto upgrade itself to the lastest version.
Payment Link Schedule 
In the last update, we had shared with you that the payment links will be sent to all of you by mid-December. However, it's taking us much longer than we had earlier anticipated. Especially when we sent out the payment links to the initial batches, we learned that many of you had quite a few questions and were not as clear as we had hoped regarding Rotimatic features, warranty, shipping and after-sales service. This took a fair bit of time for us to clarify and bring everybody on board. Post which, we had to give a fair time to update their shipping and payment details.
Going forward we have changed the content of the emails so that we preemptively answer all the questions that are common and give out all the necessary information you may need before proceeding with the payment. Furthermore, we have also decided that we will give you all an opportunity to sign up for a virtual demo in case you have any further questions once you receive your payment link.
Overall, we are estimating it will still take us another month to reach out to all of you with the payment links. But this will in no way affect the shipping schedules, we are still on track with the schedule mentioned above. Having said that, we are reaching out to more and more of you in batches based on your spot in the order queue every 3 days. We are now in the midst of filling up slots for Batch 3 i.e January shipment.   
We hope we could have predicted this earlier. However at this point, we are equally anxious to send you the payment links as you are to get it, as it is essential for us to get an exact production forecast for the next few months. But the decision of going slow with the payment links was taken in the interest of all of you keeping in mind that we follow a fair process by – going as per order queue, giving you enough clarity before you make the payment and giving each of you fair time to update the details.
Shipping & Handling  
Many of you wrote to us that you would prefer to make the payment of the remaining amount including shipping all at once instead of receiving two separate links for each of them. Therefore, we will just be sending one payment link and you can make the payment of the entire amount including shipping all at once thus eliminating the hassle.
It's been a long journey and just like any other first of its kind invention, we have had our highs and lows. But we have made our way through it and we are constantly learning and improving as we go along.
Today Rotimatic is a reality and has already made its way to many homes in the US. We are tremendously thankful for all the support you have given us so far to make today possible. We hope as we reach the final stages of the journey you continue to support us
Feedback from the current US owners   
We received some very constructive feedback from the first Rotimatic owners in the US and this has given us an opportunity to improve your experience further. The following some common feedback that we received and what we are doing about it.
Process of connecting Rotimatic to WiFi: Some of you found the process of connecting Rotimatic to the WiFi a little confusing and therefore had to take help of the support team.
What are we doing about it – We have created a simple video that will guide you step by step through the process making it really easy for you to do it all by yourself seamlessly. We have also added a more detailed explanation on how to connect Rotimatic to the WiFi in the Quick Start Guide that will come along with your Rotimatic.  
Flour types compatible with Rotimatic: A few users were not very clear on the flour types compatible with Rotimatic which lead to some trial and error. They gave us the feedback that we can communicate the details of the flour types better before the users starts using Rotimatic as it will make the initial setup is even more easier.
What are we doing about it –  Considering the feedback, we have added the details of the flours compatible with Rotimatic in the User Manual itself. Also to share with the community, Rotimatic is currently only compatible with whole wheat flour. To get consistent quality of rotis, we recommend using the following brands of flour and their variants:
Aashirwaad – Normal, Multigrain and Select.

Pillsbury – Chaaki Fresh, Multigrain and Gold.

Sujata – Chaaki Atta, Multigrain and Gold.
As we go along we will keep adding more brands of flour and flour types to your Rotimatic and they will be pushed to you in the form of software upgrades.
Please feel free to write to us at support@zimplistic.com if you have any feedback on the brands of flour that you would want us to add to the list. We will test it internally and try to push out to you.
Flour selection settings: Some of you suggested that it would be really helpful if we could plot what settings can be used for some commonly available flour brands like Sujata. (Note – We did not have a menu option for Sujata earlier. However, in the user manual we had suggested to use the Pillsbury settings for Sujata flour)
What are we doing about it – To make it intuitive for the user and to eliminating the possibility of errors, we have added the settings for Sujata in the menu option of Rotimatic itself. The latest software upgrade will be addressing this.
The feedback that we receive from you will help us tremendously to evolve Rotimatic and to improve your experience with it. In case you have any other feedback or would like us to add any other feature, please write to us at [email protected] and we will give us best to push it out to you.
______________________________________
November 2016 
______________________________________
 US, we are on your shores!
The time that we all have been working hard towards is finally here!
We are happy to share with you that we have now shipped Rotimatic to our first batch of US preorder customers. The UL reapplication was successful and the US beta has finally come to an end with positive results.
The journey has not been easy, but we are making our way through it. We are happy to have reached this stage and we are incredibly grateful for your patience during this entire journey. However, this is just the beginning.
US Delivery Timeline
We understand that you are eager to get your Rotimatic and so are we to bring it to more and more homes in the U.S.
However, as a startup, just entering the geographically large market of the US, we ought to go slow initially. As the first batch is already shipped, we would be closely monitoring the market feedback before we scale to ensure that you all get the best experience.
For the next batches, rather than going by geography, it will be subject to how soon you update your shipping and payment details.  
However, to follow a fair process, we will be reaching out to all of you in batches with the payment link based on your spot in the order queue, starting 24th November to mid of December.
Every batch will be given a certain time frame to complete the payment after which we will send the payment link to the next batch of people giving them an opportunity to rise up the queue.
Within a few days after you make the payment of the remaining amount, we will inform you regarding the batch you belong to and the delivery time for your unit. The table below describes our overall shipping timeline for the various batches:

We hope we could have predicted timelines better but it's been a hell of a ride. With this process we just want to ensure that we are able to give you all an estimated delivery timeline for your unit. It will also help us to better forecast the production for the remaining batches. Therefore would request you to please cooperate with us as we undergo this process.
US Shipping Charges
Back in 2014, we estimated shipping & taxes to be $50 to $70 each, making total additional to be paid $100-$140.
However, the cost of shipping Rotimatic that weighs 22kgs, directly from Singapore to your doorstep, is higher than what we had previously estimated. But you won't have to pay any sales tax.
In the interest of getting Rotimatic to you as soon as possible we chose to air ship it directly from Singapore instead of a 45-50 day sea voyage. Even though this would cost you a few dollars more.
After speaking with a few of you however, we realized that it would be more effective to give you all an opportunity to select your shipping options when we are ready to ship your unit. Therefore, at the moment, we will just be accepting the remaining payment for your Rotimatic (without shipping cost). When your unit is ready to be shipped, we will reach out to you again and ask you to select your shipping option and make the payment for that.
The table below will give you details of the shipping options that will be available to you:

We would like to assure you that the cost is purely a shipping and handling expense payable to our logistic partner, with no interest to Zimplistic whatsoever.
We are in fact shipping pre-orders at less than it costs to make it. Even if we are losing money we are committed to ensure that you, our early supporters, get the most advanced version of Rotimatic.
The Rotimatic that will come to you is the Version 2, new and improved with Wi-Fi capabilities unlike the Version 1 that you had placed an order for. We have gone an extra mile to make Rotimatic future proof to ensure our early supporters never miss out on the future upgrades.  
Rotimatic has been no easy feat and at no point have we forgotten to count our blessings in terms of our supportive early customers. As we approach the final stages of the journey, we hope you continue to support us.
FAQs
When will I receive my payment link? What if I miss your email?
We will start sending emails on 25th of November in batches and will keep going down the order queue. You all would have received an email from us by mid December.
We will intimate you two days before the payment link is sent, so you are informed. Please add moreinfo@zimplistic.com to your email address book so that the email does not land up in your spam folder.
Can I share my payment link with my friend who is a part of the US pre-order list?
No, please do not share your payment link with anyone as the link is personalized to your account and will give the receiver the access to manage your account. This is a confidential link and is not to be shared with any other person than the receiver of the email.
Why am I not able to access the payments tab on the community site?
The payment tab will only be accessible to people with the payment link.
What batch do I belong to and when will I receive my Rotimatic?
Once you update your shipping details and complete the payment of the remaining amount, your order will be slated for delivery. After a few days, we will send you an email with the details of the batch you belong to and the delivery time for your unit.
We will be sharing another update with you in a few days with information on your Rotimatic, warranty and after sales support.
For any other questions, please email us at [email protected].
______________________________________
October 2016
______________________________________
Singapore Update
Dear all,
Some of you have written to us to enquire about the Singapore new orders.
1. Are you opening new orders in Singapore?
Yes, we are opening new orders in Singapore soon for the 2017 batch.
But US preorder shipment is still our top priority. Production of new orders for 2017 will start only after we complete production of current US preorders.
2. Why do you open new orders now?
We have shipped all preorders in Singapore and validated the product for Singapore market. Starting to take new orders will help us to allocate volumes and plan our production ahead as we go bigger in 2017.
3. Will this new orders delay US preorder fulfillment further?
No, US shipment is our priority. We will ensure the team's full focus on the US preorder to provide you with a great Rotimatic experience.
As always, write to us or ask on our forum If you have any questions about this.
Regards,
Rotimatic Team
______________________________________
September 2016
______________________________________
Hi guys,
It's been one hell of a ride for us at Zimplistic. We have completed the Singapore shipment. Rotimatic is now a shipped product.
What once was just an idea out of a struggle in one kitchen, is now a reality saving time and giving many families homemade rotis everyday. We couldn't have made it without your patience and support. Thank you so much for having faith in the team!
If you are in Singapore, we hope you keep sending us feedback and videos of your Rotimatic moments with your loved ones. Happiness is after all homemade.
If you are in the US, we fully understand the eagerness to get yours. Now that we are done with the final qualification and shipment in Singapore, US is our next big focus.
US progress update
We have adapted the Singapore model to US-specific requirements, which include 8 major changes in heating elements, press & kneading motors and GFCI plugs. US final qualification is coming to an end with positive results from our ongoing US beta tests. We are now waiting for the UL certification reapplication to be processed (due to the new plug and cord requirement for GFCI outlets).
As we wrap this up, our team will get in touch with you to collate your latest shipping address and payment details to facilitate the delivery process. 
The fulfillment is expected to start in November and will take a few months to complete as we will be shipping in batches to monitor market feedback and customer excellence.
Please refer to the FAQ at the end of this email for further details.
We are committed to giving you a great experience. With encouraging feedback from Singapore users, we are confident with our next phase in the US.
We hope to continue having your support as we go through these final steps to bring Rotimatic to your homes.
FAQ (for US)
1. When will the US shipment start exactly?
The US fulfillment is expected to start in November 2016 and will take 3-5 months to complete, as we will be shipping in batches to closely monitor market feedback and ensure customer excellence.
Why 3-5 months: Rotimatic is the first-of-its-kind. The US model is different from the Singapore model and requires separate in-market qualification. We can't solely rely on Singapore results to rush the US fulfillment.
US is also a new market for us with different consumer behaviors and expectations. Hence, we will start with small batches to get real market feedback and adjust when necessary before ramping up for a great customer experience.
2. What is the shipping plan? Will you ship in the West before the East? 
We will ship the first batches in San Francisco, where our US betas and key partners are based, to monitor market feedback before scaling up to ship across all regions in the US – which is subject to how soon customers update their shipping address and complete the payment of remaining amounts.
3. Will there be roadshows/demos?
We plan to participate in various conferences and events in major cities to run Rotimatic demos in Nov/Dec. We will keep you updated of the details via email and our facebook page. Meanwhile, you can check what our current users in Singapore have to say about Rotimatic.
4. What is the post-sales support for US?
Most troubleshooting and repairing can be done remotely through Rotimatic WiFi module, where our technicians can remotely connect with your machine to repair, upgrade or guide you through the process.
In case hardware fixes are required, we will fix or arrange for replacement, as part of our warranty policy.
5. What is the warranty policy?
Rotimatic comes with 1-year local warranty, within which Zimplistic will either repair the defect at no charge or exchange the product. You can also return the purchased item(s) for a refund within 30 days.
Restrictions: The warranty does not apply to (a) customer-induced damages such as mishandling or misuse resulting to physical, mechanical or functional defect; (b) damage resulting from causes beyond control such as power surges, water damage or lightning strike, or any other calamity etc. (c) Unauthorized repair, alteration, modification or disassembly; and (d) removed or erased discernible identifying serial numbers.
6. How is the product doing in Singapore?
Click here to watch product reviews and customer stories from our Singapore customers.
For any other questions, please email us at [email protected].
______________________________________
August 2016
______________________________________
Singapore Shipment Completed!
We are happy to share with you that we have now shipped Rotimatics to all the pre-order customers in Singapore.
This is a big milestone for the team marking the beginning of a new phase. Our priority now is be to bring Rotimatic to the US! 
We are also humbled and delighted to share with you another important landmark in the short history of Zimplistic. At the Singapore National Day Rally speech on 21st Aug, 2016), PM Lee Hsien Loong recognized Rotimatic as an innovation that will enable families to enjoy fresh rotis and chapatis without the women having to spend a lot of time in the kitchen.
We also had the honour of serving fresh Rotimatic rotis to the guests at the reception dinner that happened post the speech. We also had the honour of serving fresh Rotimatic rotis to the guests at the reception dinner that happened post the speech.
We would like to take this occasion to thank each one of you for believing in us and putting your faith in us, it wouldn't have been possible without your support. We hope you continue to support us as we progress towards taking Rotimatic to homes in the US.  
Reviews from Singapore Users:
We know that many of you will be curious to know what our current users have to say about Rotimatic. Here is a compilation video of some of our users in Singapore.
To all our users in Singapore, we request you to please share your Rotimatic moments with us. It will be a big encouragement for the entire team. Also, if you have any feedback, please share it with us by writing to us at [email protected]
If you are among the very few in Singapore who haven't received your Rotimatic yet, stay rest-assured, the wait is just about to get over. We have already shipped your Rotimatic, to know the status of your order, please write to us at [email protected]
US Delivery Status
First of all, thank you so much for your continued patience and support. We know you are eagerly waiting for your Rotimatic and so are we, to bring it to your homes in the US.
We have a series of pre-shipment activities to complete to ensure smooth operation and a good experience for all of you. We are now much more confident after the successful SG shipment, and will try to speed things up as much as possible without compromising customer experience and product quality. We intend to complete the US deliveries by the end of this year (*). Meanwhile, we are working along with our partners in the US to draw a roadmap for the roll-out. We will update you with more specific details on the shipment as we go along.
In the meantime, if you wish to get in touch with us please feel free to post on the forum or contact us at [email protected].
Stay happy. Stay healthy.
Warmly,
Rotimatic Team
(*) Update on shipment: During our US beta tests, we realized that some newer kitchens in the US have GFCI outlets, which have more sensitive fuse in-built. This requires a new GFCI plug and cord. For this, we need to re-run the qualification process and re-apply for UL certification, causing a shift in the delivery timeline. Please check Sep 2016 update for the latest info.
______________________________________
July 2016
______________________________________
SINGAPORE DELIVERY
We are now half way through completing our preorder delivery in Singapore!
To speed up the delivery process, we are organizing more Customer Appreciation & Premier Pick up events in our office. We will be sending email invitations to all our Singapore customers who are yet to received their Rotimatic within the next 4-6 weeks.
Have a look at the past event here:
Look forward to bringing Rotimatic to more homes!
For those of you who can't make it, we will arrange for home delivery.
REVIEWS 
We understand that many of you are curious to know what our current users have to say about Rotimatic. Meet Rohinee and Manik, one of our pioneer users from Singapore. Here is what they have to say:
We will keep sharing more videos and stories from our customers as we go along. Feel free to write to us at [email protected] if you would like us to share your story with the community.
Warmly,
Rotimatic Team
______________________________________

______________________________________
May/ June 2016
______________________________________
DELIVERY STATUS
We are pleased to announce that we are finally ready for shipping in Singapore. Thank you for waiting patiently for the delivery of your units.
The first units are already making rotis at the homes of our first preorder customers in Singapore.
Special thanks to Gunjan from Singapore for sharing your Rotimatic moments with us :)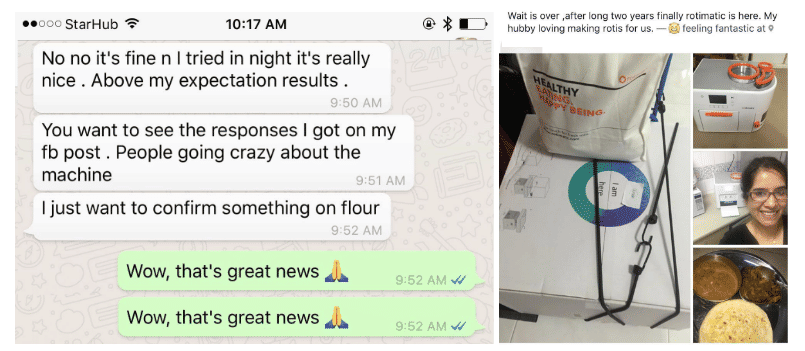 We will continue to roll out more units and expect to complete all Singapore deliveries within the next 2 months, followed with US roll-out. Our intention is to deliver all USA pre-order units by the end of 2016.
To all Rotimatic fans in Singapore: you should have received an email asking you to update your shipping address for deliveries. Please email [email protected] if you haven't received the email. For those who have received your units, please share with us any feedback through the Whastapp support number, and share your Rotimatic moments with us! 
To all Rotimatic fans in the USA: we know you are eager to get your machine. As we roll out in Singapore, we are also working with partners in the USA to plan for US roll-out. We would like to thank you for your continued patience, and share with you the positive information that we are one step closer to getting Rotimatic to the US and complete US preorders by end of the year.
We will also be collecting feedback and sharing user reviews for your reference in the upcoming months.
Feel free to post on our Forum or contact us at [email protected] should you have any questions.
Warmly,
Rotimatic Team
______________________________________
April 2016
______________________________________
Milestones achieved
Completed the first batch of consumer units for final qualification.

New kneading motor passed reliability testing.

Manufacturing quality improved with parts defects reduced by 40% and instruction updates for 23 assembly stations.
Challenges
Accelerated qualification to compensate previous delays in part readiness.

Continuous change management & assembly line update.

Limited time to implement any major updates.
What's next
Preparation for Singapore shipment

Supplier & manufacturing readiness for increased volume

Shift final qualification from headquarter to manufacturing site to reduce logistics lead time

.
Qualification summary
Test Item
Detailed

tests

Test fix cycle 1
Test fix cycle 2
Test fix cycle 3
Final qualification
Transportation

Storage

Drop test

Vibration

No major issue

Minor design change

Minor design change

No major issue

Accelerated Life Test

Sub system level

Flour dispensing & kneading failure under stress test

VT, sweeping, pressing & kicking sub assembly exceeded target

Kneading motor with new ball bearing motor and grease reached target

New flour motor configuration exceeded target

Environmental

4 corner test

Cold start Hot start
Bench handling

N.A

N.A

Passed at different environmental condition and temperature

No critical failure

FW testing

Enhanced RMS

Enhanced Adaptive algorithm

Adaptive Sweeping

VT driver improvement

RMS FW released.




Focus on stabilizing and bug fixes

Focus on Stabilization
Singapore shipment readiness
We have started manufacturing consumer units for Singapore pre-orders.
Since the start of the first test fix cycle, the manufacturing team has achieved a steep learning curve, managed to complete 108 ECO (Engineering Change order), incorporating more than 129 improved parts from 53 suppliers.
This has been a big achievement.
We are currently on track to start shipment in Singapore by end June 2016.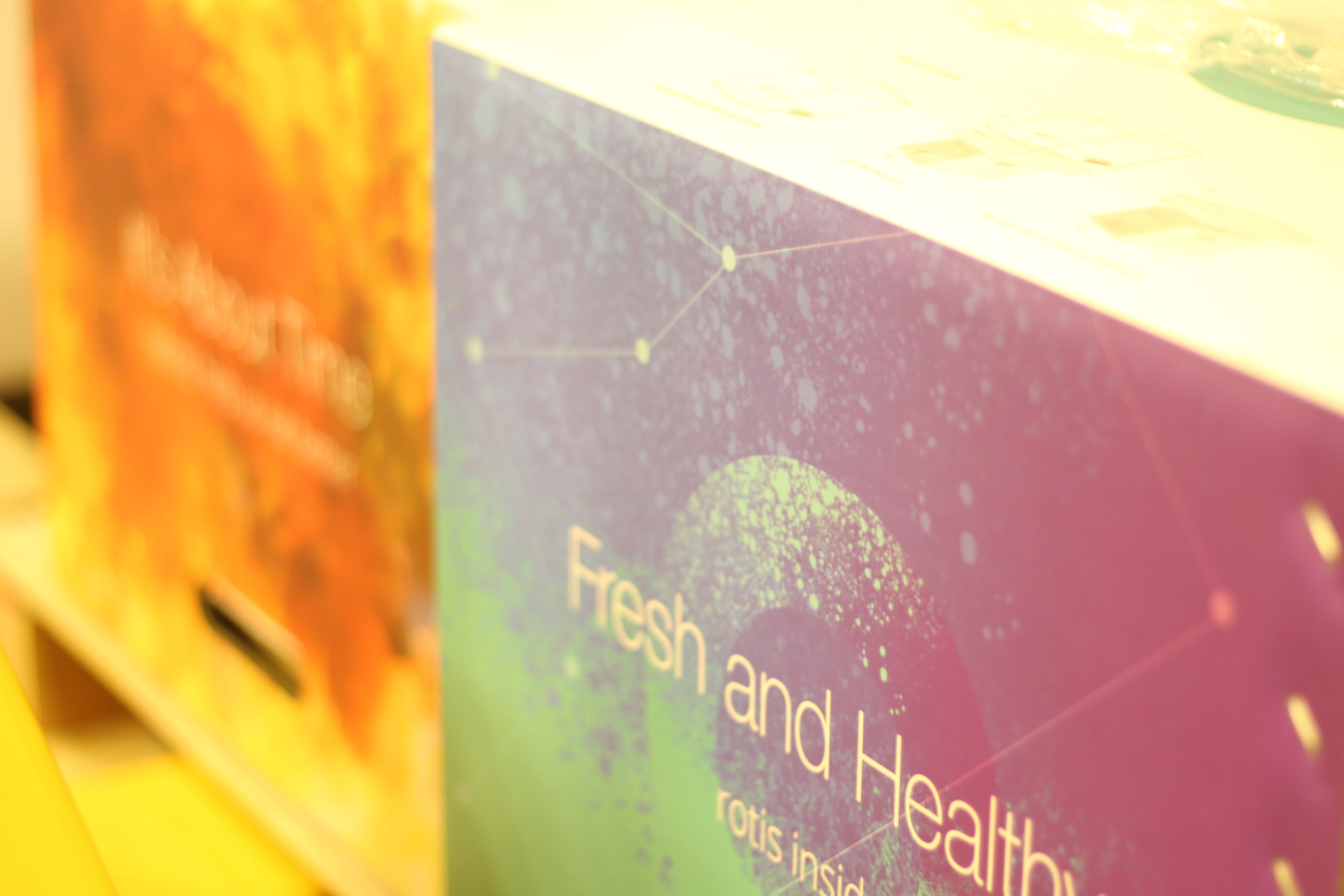 Aside from product readiness, we are also working towards a seamless onboarding experience to ensure the best possible experience for all the first Rotimatic owners.
User Manual:
For a first of its kind like Rotimatic, there are many unconventional concepts and mechanisms, which might require some time for a new user to get used to.
This intuitive and beautifully designed Rotimatic Manual will help you understand your machine and make the most out of it.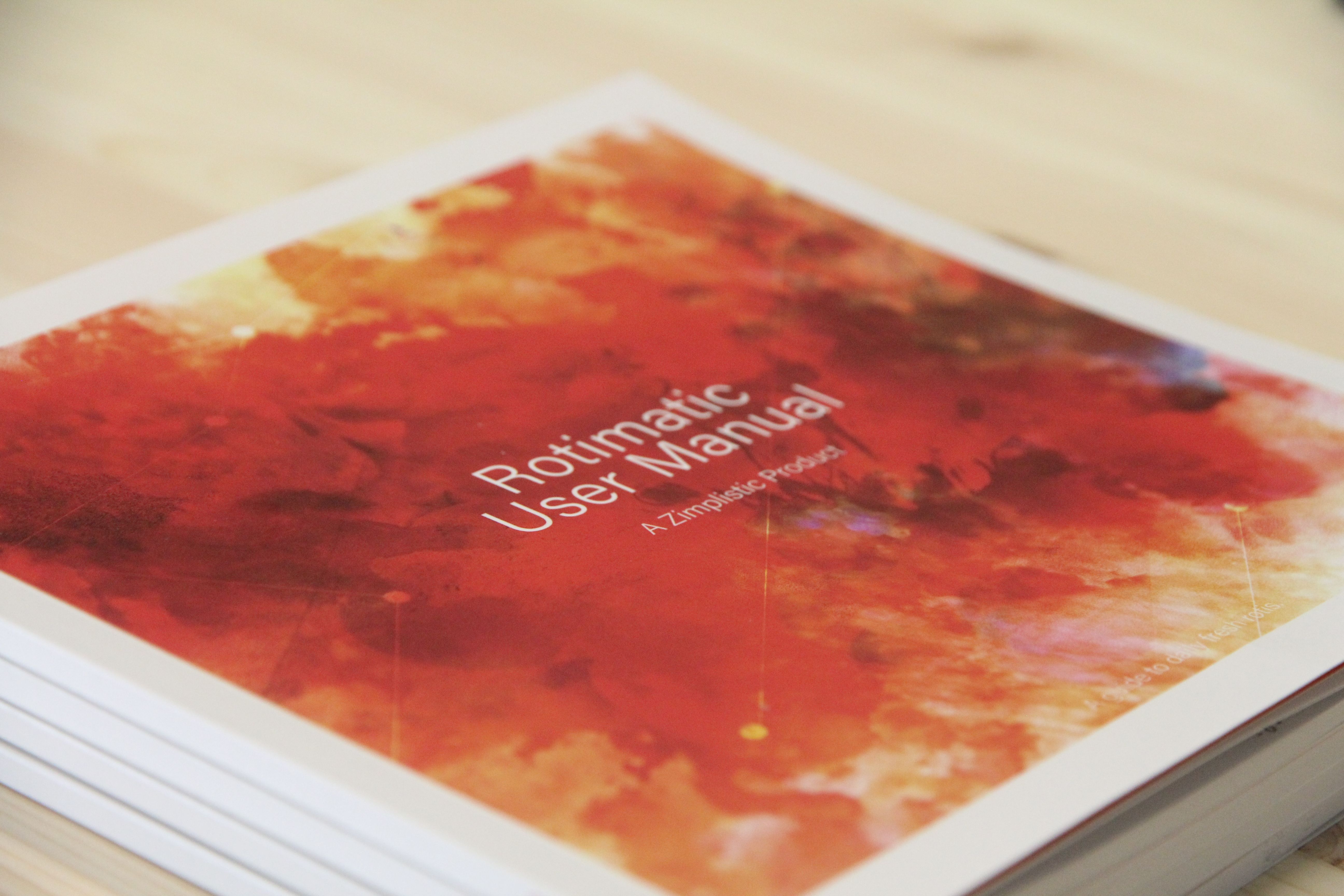 Support Center:
Consolidating learnings from our reliability tests, in-office tests and users tests, we have put together a support center – where you can find answers to the most common questions about using, troubleshooting and maintaining your Rotimatic. We hope to continue building this knowledge base together with you, once the product reached your homes.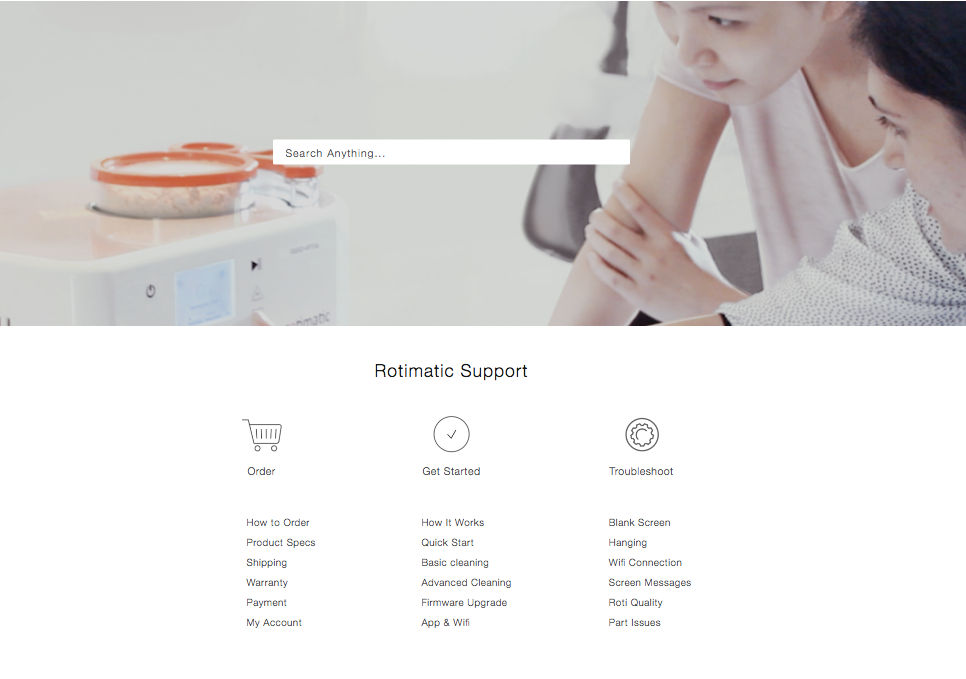 Rotimatic App:
Rotimatic is not just a kitchen appliance. It was built with a big vision. As the first step, the machine will be wifi-connected, to enable remote diagnosis and troubleshooting. Our CEO, Rishi Israni, also former CTO of a successful software tech start-up, has been working closely with a dedicated firmware team to build Rotimatic wifi module and the Rotimatic app.
The app will help you to connect your Rotimatic, enable remote troubleshooting, give you access to our help center, and initiate a live chat with our support team.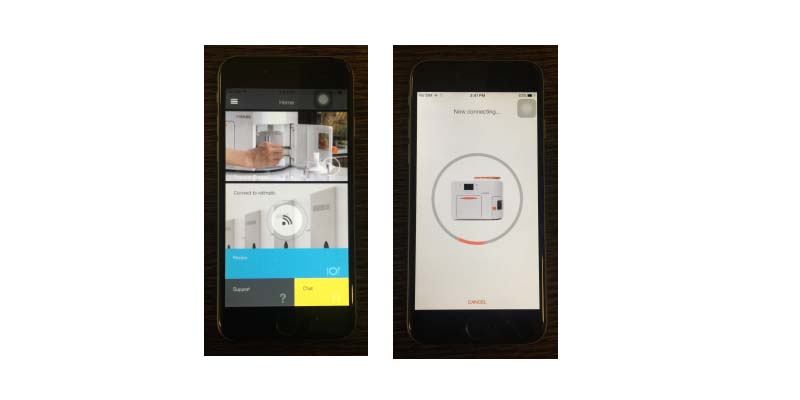 We hope this gives you a better idea where we are in terms of Singapore shipment. We will be emailing all Singapore customers to confirm shipping address before the delivery within the next 4-8 weeks, based on your preorder queue. We will of course inform you immediately should there be any unexpected deviation to the plan.
We also understand all of you in the US are just as eager to get your Rotimatic. Trust that we are doing our best to speed things up without cutting corners or compromising the product and service quality. We appreciate your patience and understanding thus far. Please stay tuned and we will not disappoint you. You are making history with this invention together with the Zimplistic team!
Feel free to post on our Community Forum or email [email protected] should you have any questions.
Warmly,
Rotimatic Team
______________________________________
March 2016
______________________________________
Milestones achieved
Completed manufacturing Cycle 3.

Launched field testing program in Singapore.

Completed wifi module for remote upgrade and troubleshooting.
Challenges
Flour dispensing motor precision shifts over time due to material wear-out – to improve motor quality.

Kneading process is affected by flour dispensing precision variation – to build in intelligence system to adapt and testing new Johnson Motor parts for higher reliability.

Press requires calibration due to press seasoning over time – to build in a self-calibration machnism for users to self-calibrate.
What's next
Verify the latest improvements with final tooled parts before final manufacturing and qualification round.

Integrate users' feedback to refine learning product materials.

Firm up logistics and support plan for Singapore roll-out.
Qualification Results
<Performance Dashboard> 
STAGE 1

KNEADING

STAGE 2

SWEEPING

STAGE 3

PRESSING

STAGE 4

TRANSFERING

STAGE 5

ROASTING

STAGE 6

KICKING

First production
70-80%
Optimal
70-76%
Optimal
65-70%
Optimal
Cycle 1

80-85%

Optimal

80-90%

Optimal

80-85%

Optimal

Cycle 2

80-90%

90%

80%

Optimal

85-90%

Optimal

Cycle 3

85%

Optimal

98%

98%

97%

Optimal
For more information about the 6 Rotimatic stages, click here.
Key improvement drivers:
Enhanced adaptive AI technology to improve auto learning during dispensing and kneading

Adaptive kneading speed tuned

Vibrating sweeper adaptive sweeping

More than 10 press improvements
<A sneak peek into Rotimatic Reliability tests>
In order to arrive at the performance dashboard statistics, we have a full-fledged qualification team of about 30 test engineers at both manufacturing and our internal testing quarter to run Rotimatic and evaluate each machine based on the below criteria:
Test Item
Detail

tests

Objective
Transportation

Storage

Drop test

Vibration

To ensure Rotimatic (and all its electronic, sensor and mechanical parts) stays intact  and perform optimally after potential turbulence during transportation.

Accelerated Stress Test

Sub system level

To speed up the testing process, while understanding the potential issues which may arise during the life of Rotimatic, and address them.

Ambient Life

System level

To generate data on quality consistency (roti yield, parts quality) during normal usage, in normal environment conditions.

Environmental

4 corner test

Cold start Hot start
Bench handling

To understand how Rotimatic performance varies and how effective is the Adaptive AI system in different extreme conditions

Firmware testing

Code stabilization and bug fix




Firmware feature enhancement




RMS test

To identify firmware bugs, simulate test cases to ensure base code stability before every release.

To recommend new messages, features to help users better interact with Rotimatic.

To test the process of remote monitoring, troubleshooting and upgrading.
As part of Cycle 3 testing, we are also placing Rotimatic in selected users' homes to see how the machine performs in a home setting and if any user experience insights can be implemented in the final round of manufacturing and qualification. Check out the video on this in our last post.
Feel free to reach out to us at [email protected] if there is anything we can help you with.
Warmly,
Rotimatic team.
______________________________________
Jan/Feb 2016
______________________________________
Dear Rotimatic supporters,
Sorry for our delay in the updates. We are currently running a field testing program in Singapore, where we put Rotimatic in selected users' homes to get real users' feedback, in the kitchen environment with daily normal usage. The team is quite tied up with this program, and also waiting to compile some materials from the program to share with you.
Please bear with us. More details will come soon.
Meanwhile, you can check out this video about our field testing program.
Thanks much!
Oh, by the way, we created a new channel in the forum called "[email protected]", a place for us to share live updates from the office with you on a daily basis. Check it out :)
Warmly,
Rotimatic Team
______________________________________
Dec 2015
______________________________________
Happy Festive Season!
From all of us at Zimplistic, we wish you a very happy year end celebration and successful healthy 2016!
Welcoming 2016, we are all looking forward to kickstarting the next test-fix cycle, also the last one before final qualification. This iteration approach has helped us bring the manufacturing quality to a new level. We couldn't have reached this point without your support, patience and understanding. So, a big THANK YOU from the team to you, Rotimatic's pioneer supporter and extended team.
In this update, aside from manufacturing highlights, we will also address some common questions from the Community. Hope it will help to clear any doubts you may have and confidently support us on this journey.
Manufacturing Highlights
Milestones achieved
Improved manufacturing processes with:

Automated calibration stations to save time and minimize human errors.
Parts identification scanning process for better quality tracking and training.
70 new jigs and fixtures to enhance assembly precision.

Enhanced materials and mechanical structure for press and kneading system.
Activated 3-shift testing to speed up qualification process.
Challenges
Flour dispensing & kneading system require more reliability improvements to react to stress built up over time.
Overall schedule highly dependent on the outcome of qualification results.
Change in one part requires thorough investigation and adjustment in other parts due to integrated system design.
What's next
Qualify multiple solutions in parallel to improve efficiency.
Qualify in batches to rectify within the same manufacturing cycle.
Prepare for the last test-fix cycle in Q1 2016.
While the first cycle focused on familiarizing our new manufacturing team with the assembly process and potential issues, the second cycle is when we implemented new automation systems and additional test structure early in the line to minimize errors at the integration stage.
One automation example is the dispenser calibration station,  a process of checking Rotimatic dispensing characteristics to help the machine arrive at an initial calibration factor. This number will ensure precise ingredient dispensing value reading throughout its lifetime. The process was previously carried out by test operators, which might result in manual errors and takes approximately 30 minutes for each machine.
With the new calibration station, flour and water can be auto dispensed, auto measured and the machine can get its unique calibration value in less than 8 minutes, without any human intervention.
We have also successfully introduced more than 20 new test cases at the sub-assembly level, helping to reduce integration defects by 60%. An extra 1 minute spent at the sub-assembly to qualify individual parts is 20 minutes saved at the integration phase to open up the machine and diagnose the issue from more than 300 unique parts.
Curious about how our manufacturing site looks like? Check out this video of Shrugal, our manufacturing lead, sharing some of the challenges he faces on site.
Community FAQ
To address your queries more effectively, below are answers to the top 5 questions we received from the community over the past few months.
Feel free to drop us a line at [email protected] should you have any other questions.
1. When am I getting my unit(s)?
Zimplistic team is working around the clock to ensure quality while catching our shipment commencement date in Q2 2016, starting from our home ground in Singapore. This is the best estimation based on what is known to us at the moment. There might be technical uncertainties any tech companies need to cope with and we are not an exception. We will keep you updated as soon as there is any deviation to the plan. At the moment, we are confident of our timeline.
Aside from product quality, logistic and support are the biggest working blocks which hinder us from giving an exact estimate for an individual order. We are assuming 3-6 months to scale our support and logistic system to all locations of our pre-orders customers. However, the duration may vary depending on actual market observations once we start shipping the first batch out, starting from Singapore, then US West Coast.
We understand your eagerness to start using the product. Trust that we are just as eager and are working hard to make this happen for you.
2. Why did you open the preorder without the final product?
Opening pre-order for market validation is a natural approach for many tech startups.
We had the final prototype when we opened preorders, but underestimated the amount of time and efforts to bring it to manufactured-ready state.
Aware of the uncertainties involved, we offered all pre-order customers a special price, which is almost half of our estimated retail price for the first version of Rotimatic (USD999).
If, at any point in time, you no longer support the product and the team, you can request for a full refund. If you continue to support us, we assure you that it will be worth the wait.
3. What will be the price when you open pre-orders again? Will I be able to order at the special pre-order price?
The estimated retail price for Rotimatic first version is USD999. Only customers who have placed preorders in the first batch will enjoy the same benefits at the special price of USD599.
If you would like to order more in the next batch, the price will be according to the new price. Prices may vary for different Rotimatic versions.
4. Will I get the latest version of Rotimatic?
Yes. To honor your early support, all pre-order customers will receive the latest version of Rotimatic with free upgrades at the same pre-order price.
5. Why do you take so long?
If you have a chance, you are welcome to drop by our office, to see first-hand the massive technology and details required to build a product like Rotimatic. To make a Rotimatic which can work well in controlled conditions, fixed temperature and humidity, for one specific type of flour or water, is already a challenge. To make thousands of Rotimatics which are smart and versatile enough to work well in any parts of the world with any environmental conditions is a huge mission not everyone can take on.
We are taking the time required to build a quality and lasting product, for generations to come. Just like how a washing machine or a microwave was first built in its original shape and takes time to evolve, we are spearheading that evolution for roti-making. Families who are struggling to maintain the roti-eating habits for their parents, spouses and children are the reason why we embark on this journey.
Warmly,
Rotimatic Team
______________________________________
Nov 2015
______________________________________
More roti lovers got the chance to experience Rotimatic first hand with our in-office beta program. Valuable learnings from new users have contributed greatly in our next steps to improve the Rotimatic user experience, along with ironing out manufacturing processes & quality control.
Thank you Sayali, Geeta, Urvi, Manasa, Milind, Ravi, Dipesh, Bob, Saurabh, Renuka, Ruchika, Shubhangi, together with friends and families for your great feedback. We hope you had fun with Rotimatic!
Also, thanks all of you who responded to our "Zimplistic online tour survey". It is really hectic this month with the next manufacturing cycle coming up, and all the foundation work to set up an enjoyable user journey and robust service & support. We are looking at late December or January to organize the online tour. Will keep you guys updated!
______________________________________
Sep/Oct 2015
______________________________________
Milestones achieved
– Completed manufacturing Cycle 1.
– Launched full-fledged qualification process.
– Conducted new user tests at Zimplistic office.
Challenges
– Due to rework lead time, qualification speed is impacted.
– Under 24/7 accelerated stress test, certain kneading and pressing parts show fatigue.
– QA team on the line requires more training to catch all assembly and parts issues.
What's next
– Expand testing and rework capacity.
– Implement final resolutions for issues found in Cycle 1.
– Finalize improved specs to prepare for the next build.
Qualification Results
The graph below shows the product status in Cycle 1 as compared to the first production batch in March 2015.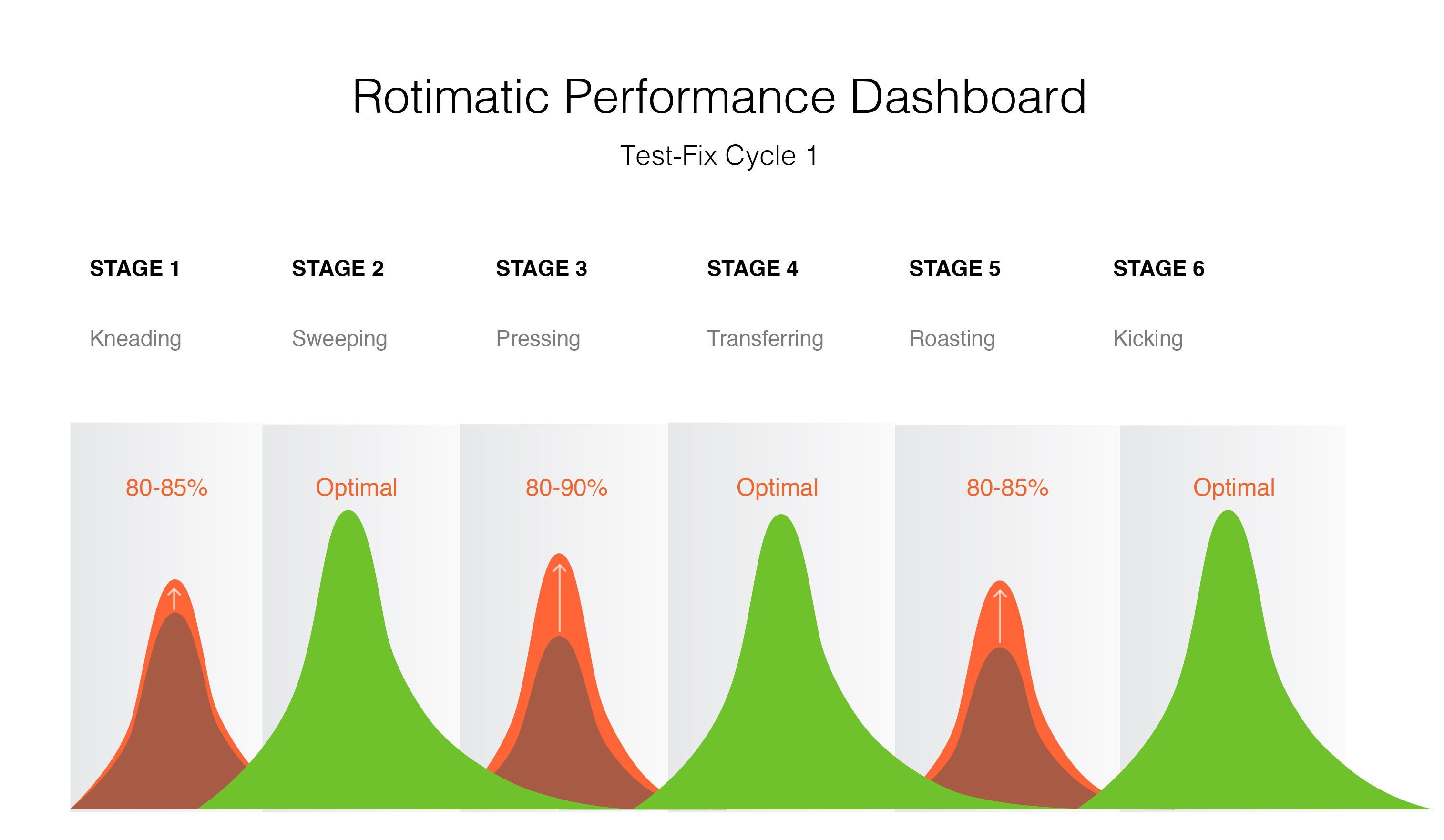 For more information about the 6 Rotimatic stages, click here.
Key improvement drivers:
– Streamlined manufacturing setup & SOPs through partnership with one of the world's best manufacturing houses.
– Optimized firmware release adapting to possible dough characteristics.
– Improved pan coating.
– New roasting sequence with better temperature control.
Qualification Complexities
Rotimatic is a highly advanced project in terms of design, engineering systems, supplier quantity, certification requirements and manufacturing processes just to name a few of the development components.
Qualifying the product for home use entails a gamut of verification stages like drop, storage, climatic, functional and reliability tests. As every small change in temperature or humidity of the machine's environment can affect the flour and water properties, we have to qualify that Rotimatic makes good rotis in every kitchen worldwide.
As each of these steps has to be completed at every manufacturing cycle to ensure every issue reported to is resolved before kicking off the next build.
One of the most important qualifications is the accelerated stress test, a continuous operation of key moving components under high stress to provide an early insight to the machine reliability performance. In addition, the machine has to complete the ambient test, where it makes rotis continuously for weeks in different environments, followed by functional experiments and new user tests.
Have a look at some of those tests here. 
Behind-the-scenes at Zimplistic
Since many of you have been curious about the Zimplistic office, we shot a quick video of Pranoti (Zimplistic co-founder & CTO) showing you what the team is up to.
______________________________________
August 2015
______________________________________
Milestones achieved
– Kicked off manufacturing for Cycle 1.
– Set up new jigs and fixtures for precision assembly.
– Activated on-site roti-making test.
Challenges
– Material delivery delayed due to supplier capacity.
– Inconsistent behavior due to parts & assembly variance.
– Speed of assembly staff's process training.
What's next
– Continue building more units to fine tune assembly processes.
– Monitor and implement new fool-proof equipment & procedures.
– Start machine qualification process for Cycle 1.
Manufacturing status
This is an intense period for our engineers at Zimplistic. We have stationed our team in12-hour shifts at the manufacturing site to train the assembly staff, monitor and fine tune the production process.
"For every new product, we have to complete in-depth studies before its release. The first major study is benchmarking. As Rotimatic is the first of its kind, there are no benchmarks. That's why for us the previous model is the benchmark for the next model. And we are setting and breaking our own benchmark on a daily basis. Our main focus now is accelerating the knowledge curve, making sure we monitor the process closely, discover any assembly issues on the spot, from big to small, and designing a fool-proof system for our next build."

Material kit for an assembly module.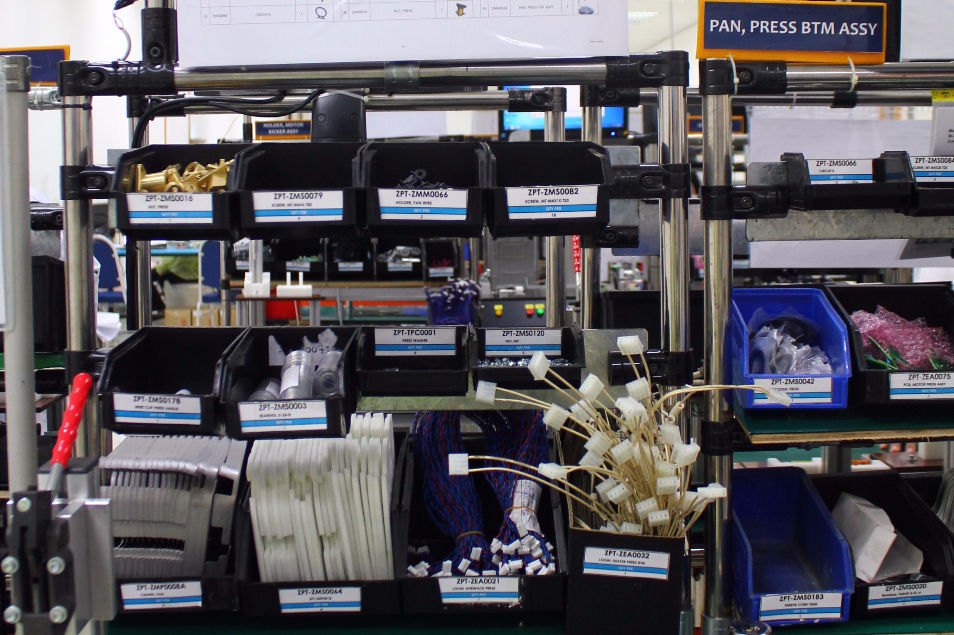 Rotimatic has more than 1000 parts and 10 major assembly modules. Each module has up to 60 individual parts. That's why checking all incoming materials and kitting are very critical and challenging.
Example of a jig to aid the assembly process.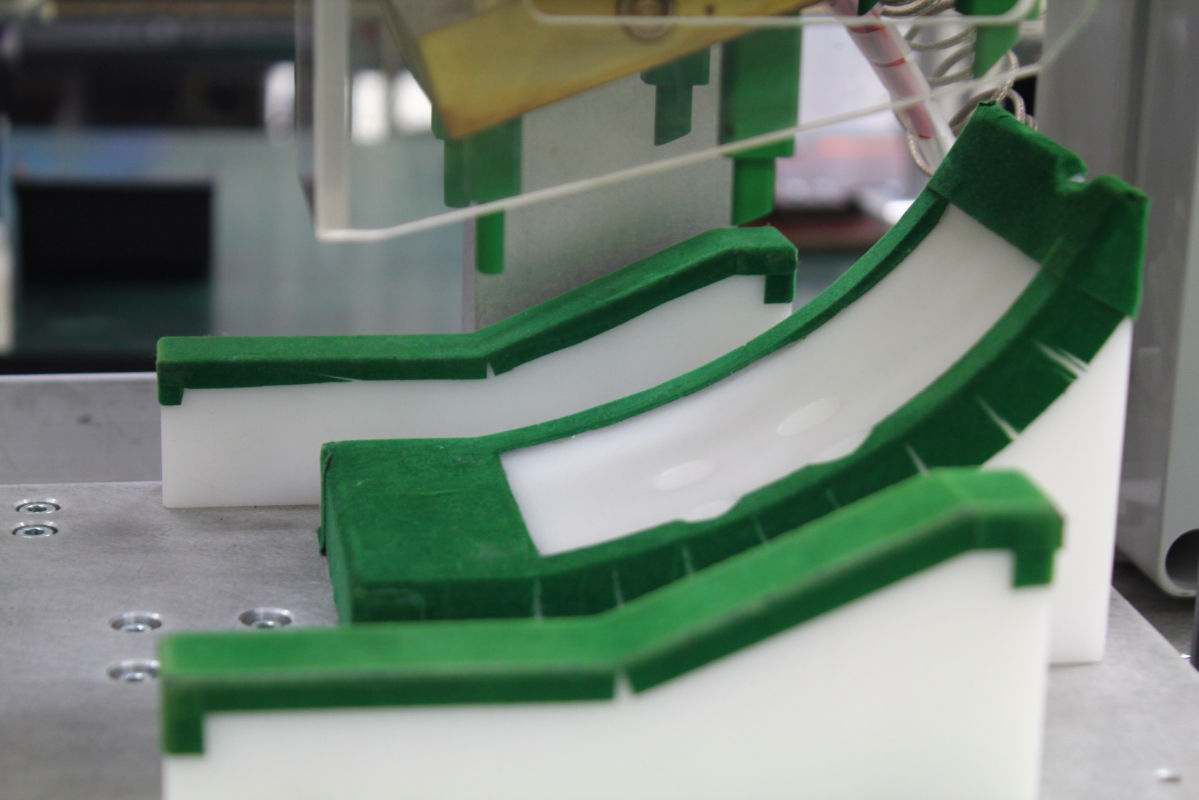 Jigs help to position and protect the parts during the assembly process. Since Rotimatic is the first of its kind, all jigs and fixtures have to be designed from scratch.
We have designed and installed 55 jigs on Rotimatic production line so far.
An assembly station.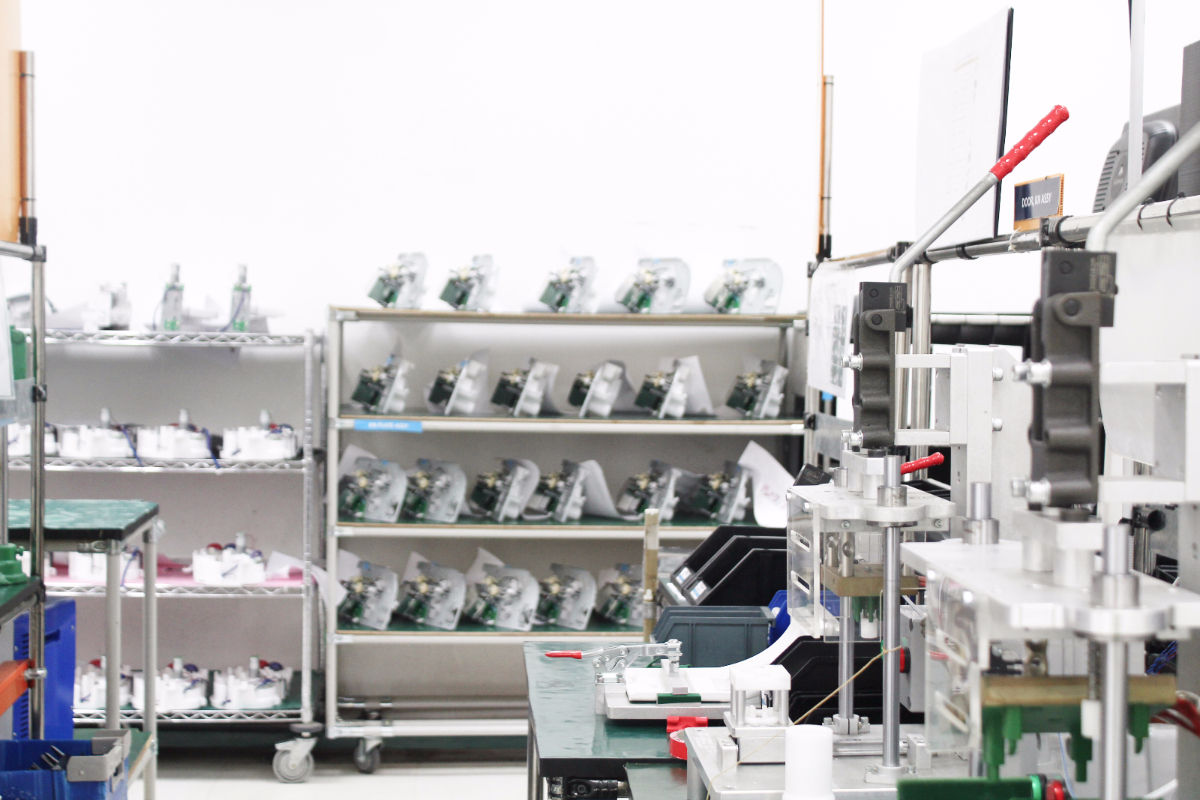 Each assembly station is equipped with a custom-designed test station. Not only testing the final product, we are testing every single module before sending it to the integration line. Test procedures include visual tests, mechanical tests, self-check by the assembly staff and cross-check by a dedicated tester.
The first Rotimatics ready for roti-making tests.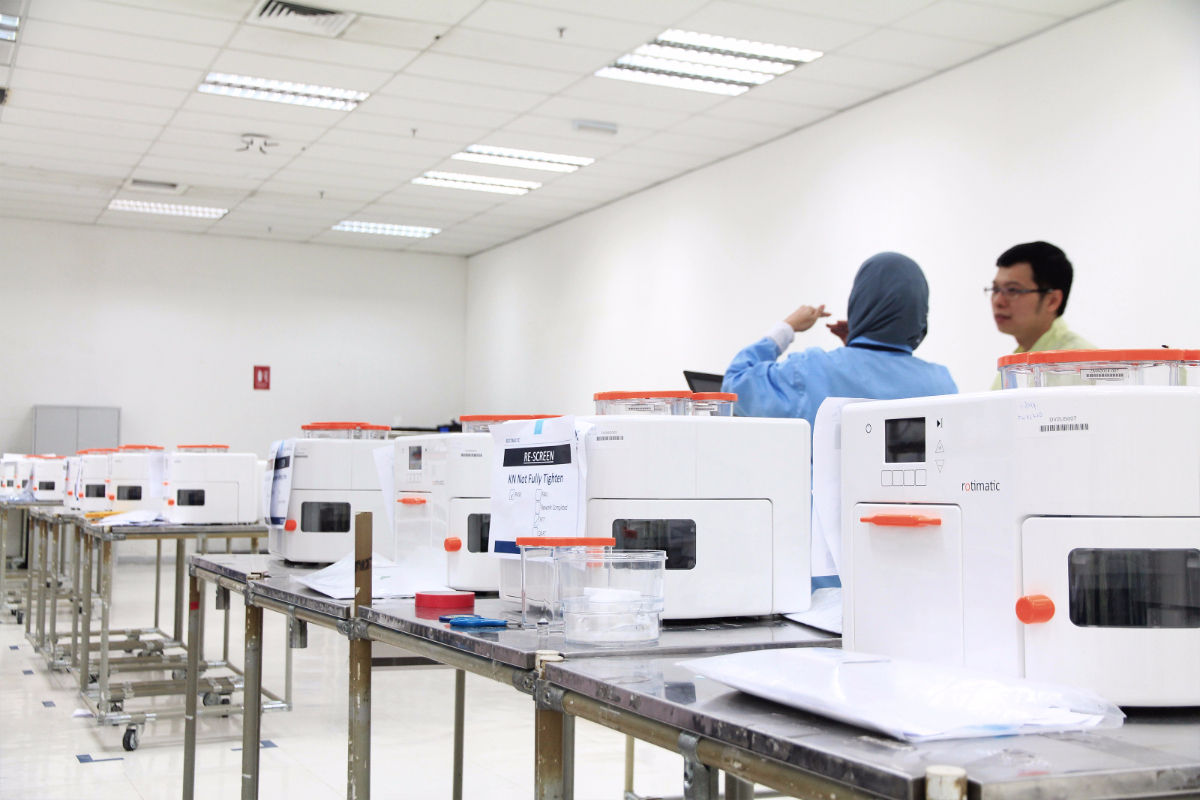 After passing the mechanical test to make sure all moving parts are working properly, every Rotimatic will be sent for roti-making tests right at the manufacturing facility. This enables us to troubleshoot effectively and take immediate actions to improve the production proc
Rotimatic making its first rotis.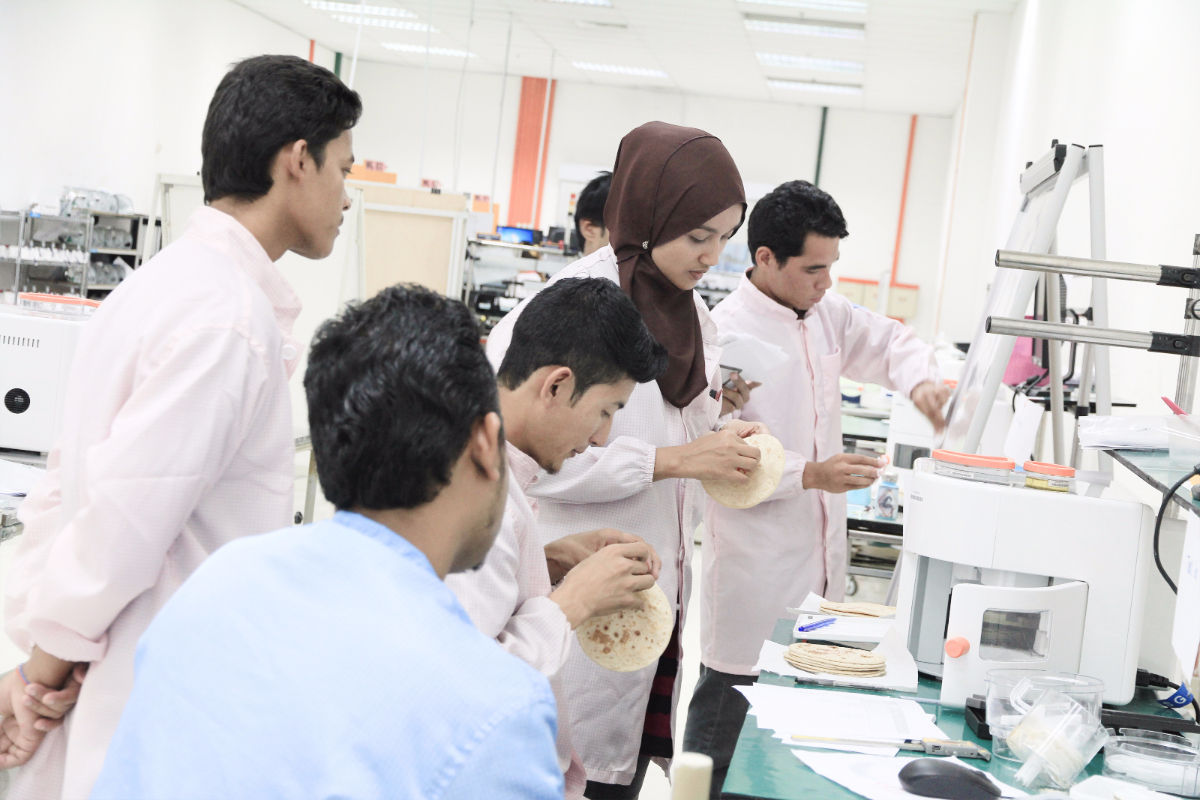 The final roti-making test is conducted under close watch of our engineers. Every roti is scrutinized to ensure each machine makes consistently good rotis before being sent to our headquarter office for the internal quality assurance process.
Rotimatic "commando" testing program
Testing is a big part of every development step when manufacturing a brand new invention. Internally we have set the benchmark high and symbolically put Rotimatic through what our engineers refer to as rigorous "commando" testing. That's what Rotimatic goes through after passing the final roti-making quality functional test at the manufacturing site.
These tests help us identify improvement areas to focus on in every test-fix cycle, speeding up the improvement process and catching maximum number of manufacturing issues possible.
Take a look at the standard margin tests we run – with Rotimatic going through 24 hours of vibration.The same unit is then stored at -20 degrees and + 60 degrees for 48 hours, followed by a drop test from 2-meter height on different angles.
______________________________________
July 2015
______________________________________
Manufacturing Timeline
For the next 3 quarters, our focus is on completing manufacturing qualification, which includes fine tuning the assembly line, training the assembly staff and in-depth product testing.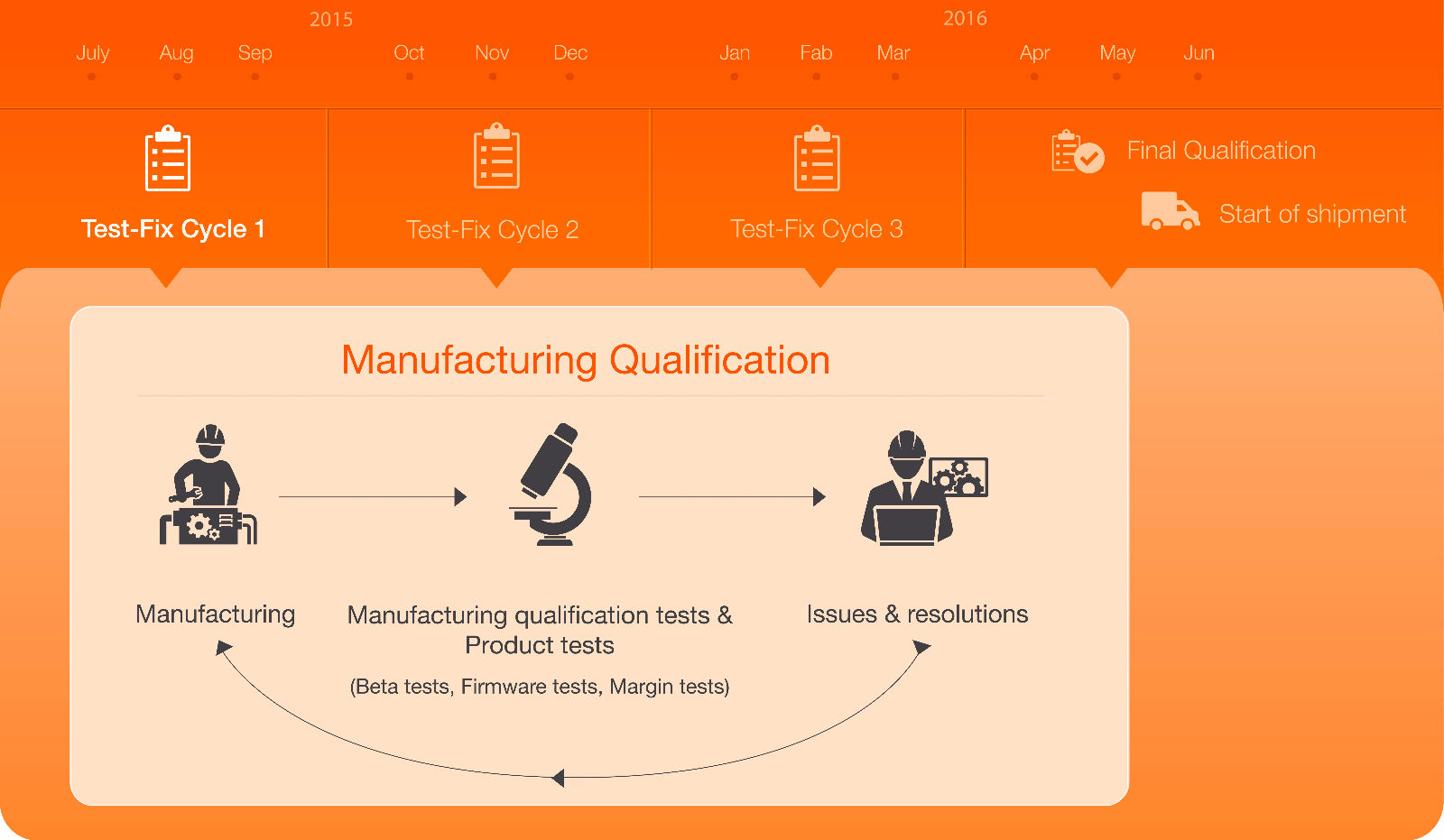 Product Status
As shared in our last update, assessment of the first production batch revealed inconsistent machine assembly.
To pinpoint what caused the issue so we could improve our manufacturing processes, we analyzed each Rotimatic's performance based on the 6 distinct stages inside Rotimatic. These sequential steps enable the full automation of the machine's complex process of making a roti from scratch. The success rate of each stage determines whether you get a perfectly puffed roti on your plate.
The graph below captures the status of the first batch produced last quarter.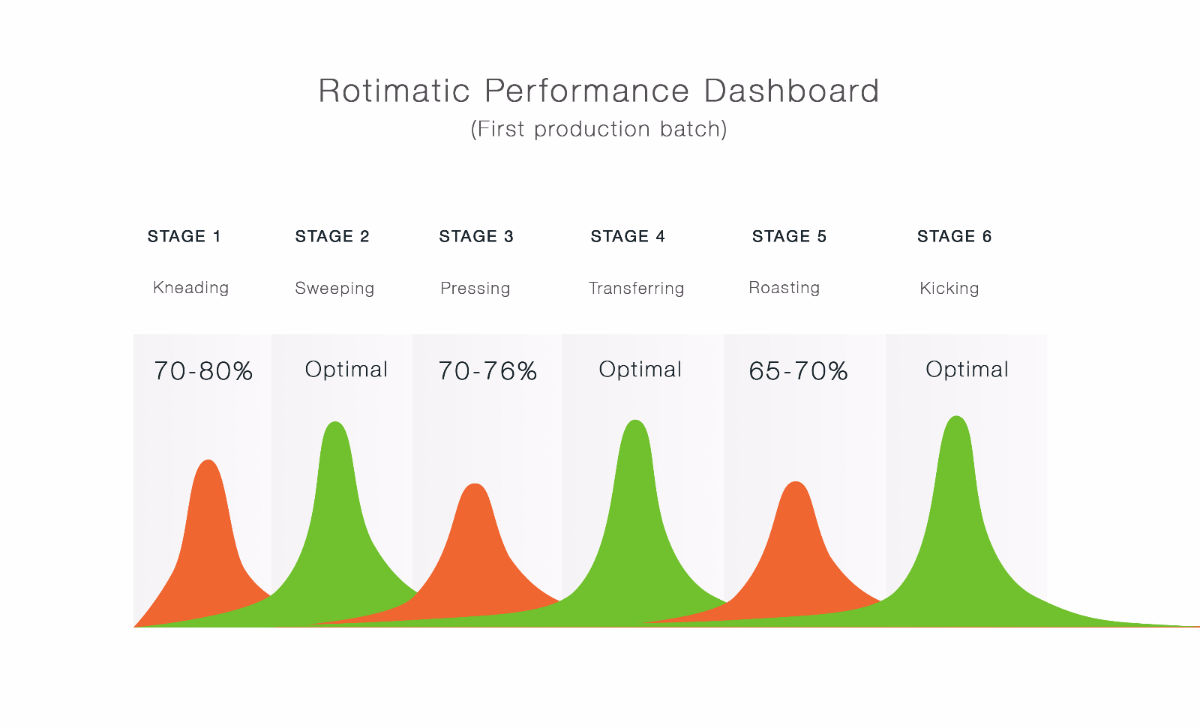 Our team has been working closely with the manufacturer and suppliers to improve the machine's operation at each stage. The solutions we identified are expected to improve the success rate of each stage by 10-20%, getting us closer to the optimal range.
These solutions will be qualified through our Test-Fix Cycle 1, with manufacturing starting late August.
Key Improvements
Manufacturing Set-Up
Add 9 sub-assembly test stations to check parts' quality right on the assembly line
Create video instructions covering 270 sub-assemblies for assembly operators.
Conduct final testing (of making rotis) with the R&D team stationed on the manufacturing site for immediate troubleshooting and replacement
Product
Stage 1: The key challenge is bigger dispensing variations when manufacturing at scale. The adaptive system, which makes real-time computations to mirror human judgement when making the dough ball was previously optimized for the lab environment. We are now developing a twice as robust adaptive system to deliver a great doughball every time, especially when the machine is produced in masses.
Stage 3 & 5: We discovered decreased effectiveness in pressing and roasting due to a pan production inconsistency. We are working with suppliers to improve the pan coating by implementing a more stringent quality assessment process for the pans right on the assembly line. The team is also adapting the pressing time to further optimize the roasting sequence to match the new pans.
Technology Insights
The creation of a roti (or flatbread) is a labor-intensive and tedious process, which takes a lot of practice to master. However, for centuries there was no automation for this due to the complexity and human judgement required at each stage to get it right.
As the first in the world to take on this big challenge, our engineering team have turned making roti into a science, designing many world's first technologies to perfect the process.
As many of you were curious to know more about the technology inside Rotimatic, we asked Turkay, our in-house scientist, to share his insights on what it takes to make a perfect roti from a technology perspective.
For the full playlist, click here.
Stay tuned for your next update where we will share more on the stringent qualification process Rotimatic is going through to ensure quality before we ship out to you.Have something you would like to see in our upcoming updates? We'd love to hear your inputs! Simply email us at [email protected].
Stay happy & healthy!
______________________________________
June 2015
______________________________________
Our engineers have released the assessment results. Please check the video message from Pranoti, our co-founder & CTO for detailed updates.
(You should have received this video in your inbox. If you haven't, kindly contact us at [email protected] to update your email address, so we could email you our future updates).
______________________________________
May 2015
______________________________________
We have just wrapped up the first round of early production units assessment.
Our engineers are analyzing the data collected before concluding the product status.
We are facing a delay in timelines and we are very sorry about it. We are working hard to firm up the timelines needed to bring you a quality product.
You will be receiving a personal email from us on the latest timeline updates soon.
In parallel with the in-home assessment and lab operational testing, we are running a variety of stress tests to ensure Rotimatic reaches your home in its best performance despite harsh storage conditions and rough handling.
We are also working closely with one of the top manufacturing partners to step up the parts quality control and assembly line precision to ensure we build a strong foundation before we scale up.
Rotimatic will be in your kitchen for daily usage, so we are taking every necessary step to build a machine which can endure that. That's why it is taking us longer than anticipated. We seek for your understanding and patience in this final phase of the journey.
______________________________________
Apr 2015
______________________________________
In-home Assessments 
We're currently running in-home assessments with a small group of users in Singapore.
With their rich usability feedback, we're fixing issues related to parts non-compliance and assembly output such as:

Pan coating: Rotimatic has a set of 4 pans with 2 different temperatures for pressing and roasting. In order for the roti to fully puff, the dough has to be evenly pressed by perfectly level pan coating. Even slight imperfection can affect the roti quality over time.
Water dock cleaning: Learning it might be difficult to clean a narrow corner in the water container dock, we have taken users' feedback to redesign the dock for easier cleaning. Check out the prototyped change here.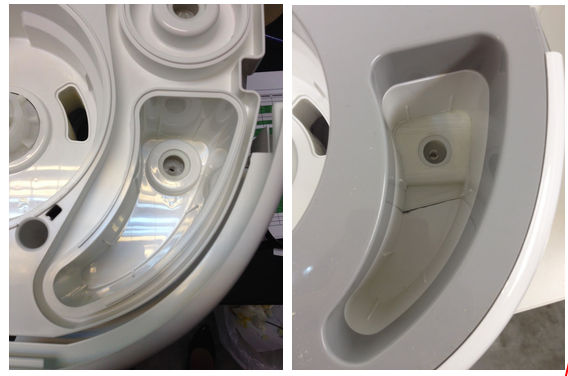 With more than 300 parts to source and assemble with high precision, we discovered inconsistent performance across the manufactured units.
These manufacturing challenges require more time to solve than initially anticipated.
We are putting extensive resources into parts quality control and assembly line training to ensure consistent quality standard of each manufactured unit before we scale.
We are making hard decisions on the delivery timelines and will share with you via email in our next update.
Demo
We hosted a small demo in San Francisco in late April with our early production unit, where we capture valuable insights on US lifestyles, preferences & several great product suggestions.

To upgrade the firmware and change machine's motherboard incorporating the feedback from both the demo and ongoing in-home monitoring, we are pausing US demos at the moment.
When the latest build is ready, we will host more demos so you can see the improvements and share feedback on the latest builds.
______________________________________
March 2015
______________________________________
First production units are out.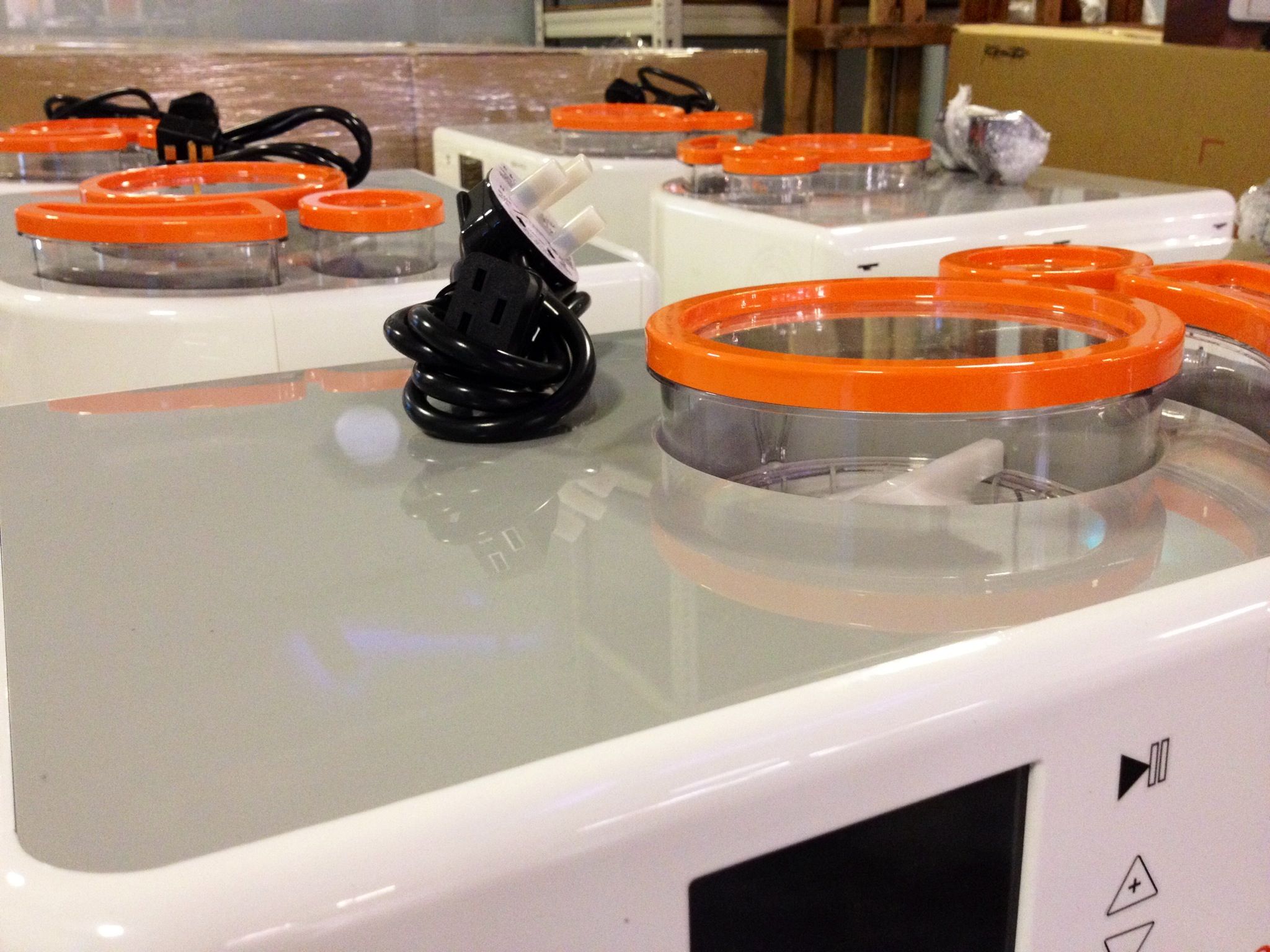 After testing each manufactured unit in the lab, we are now placing these units in users' homes to learn how Rotimatic performs in the home-setting for the very first time.
 Our engineers are collaborating with each user to learn & improve the Rotimatic performance before we plan for the next production batches.
Certifications:

Food safety approved (FDA) with BPA free product parts.
Short circuit safe and fire hazard safe for UL certifications.
First round of demos wrapped up for Singapore pre-order customers.
US demos kicking off in San Francisco from second half of April. Post that, we will roll out demos in other cities.
Since we want to give you an up-close look at the machine with plenty of rotis to taste, our demos will be small, intimate events.
As this personal approach takes us a bit more time, we appreciate your patience while we reach out to everyone of you.
______________________________________
Update (February 2015) : Straight (& unedited) from the R&D engineers 
______________________________________
"As a start-up working on a completely new product with no precedent to base the journey upon, we are bound to discover unknown issues. We are working non-stop to overcome all new issues. This is the latest update we have based on the visibility we currently have. We will update here as and when we achieve the next milestones."
We just got our production line ready and we are currently getting certifications as well as fine tuning the production line.
The early production units are ready in March end/April start. We will ship those out for pilot in-home use by some of our earliest consumers.

Post that, we will assess if all on track and determine how we ramp up our production. The goal is to hit certain key metrics with the early units as manufacturing a complex technology (as a start-up) for hundreds of millions of households, it is important to lay a strong foundation, be thorough at each step and cut no corners.

This is in line with our company philosophy on product development – to be thorough at each step, do the right thing no matter how long it takes to lay a strong foundation and build a 

product

 we ourselves will want to use & recommend to friends & family.
We are taking our Singapore consumers through the demos and hearing their inputs.

We are aiming for demos in the US for the earliest consumers in the near future, starting from the West Coast. Details on the first round of demos to follow.

We will share with you how our early production units perform and what the roll out timelines for the next bigger production batch looks like. This will directly affect shipment timelines.

We hope you understand the journey better and continue to provide us your kind encouragement!