Get Hands On Your Favourite Roti Chips & Salsa Recipe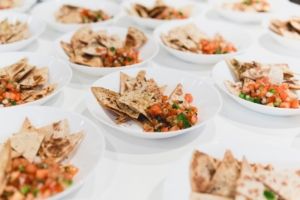 We are so glad to know that our chef Haquel's Roti Chips using Rotimatic with Salsa was loved by all of you! We get it because it was so delectable that everyone in the office was craving for more!
We are sharing the recipe with all of you so that now you can make it at your home! A healthy, fresh and quick recipe for your snack cravings. Here is the complete recipe below:
Ingredients
600g Ripe Red Tomatoes

200g Red Onions

300g Green Bell Peppers

A handful of Coriander Leaves, chopped

A pinch of Cumin Powder

3 tablespoons of Ketchup

Salt, to taste

Juice from 1 large Lime

4 tablespoons Zaatar

(OPTIONAL) Hot Sauce/ Tabasco

10 pieces Roti
Preparation
Preheat oven to 160 °C

.

 
Make 10 rotis and set aside.

The rotis will be easier to handle when they have cooled as they will not be too soft.

Dice all the vegetables.

Dice the tomatoes, onion, and bell pepper and set aside in a bowl.

Mix in the seasoning, ketchup, lime juice and chopped coriander

. Toss the salsa up so you get all that seasoning evenly coated on the veggies and set aside.

(At this point it's also optional to mix in a little bit of zaatar as the earthiness accompanies the cumin well)

Cut each roti into 8 wedges and arrange on a baking sheet. Brush some oil on the chips and season with salt and zaatar.

Bake @ 160 °C for 8-9 minutes.

Serve in a huge bowl and spoon the salsa over or use the chip themselves to dip into the salsa.
The post Get Hands On Your Favourite Roti Chips & Salsa Recipe appeared first on Rotimatic.