How to Choose an Automatic Roti-Maker
Changing gender-roles and priorities is making the use of automatic roti-maker machines, in commercial as well as domestic space, a necessity.
Ask any resident of South Asia what their staple food of choice is, chances are the answer will be either rice or, the inevitable roti. The simplest form of Indian flatbreads, roti, has a long history that intertwines it with the culture, traditional practices, and the very fabric of a large segment of the society. So much so that Indians (and inhabitants of its neighboring countries) who have immigrated to foreign nations have passed down the dependence on rotis in meals to their children. Keeping up with changing trends and evolving with the needs of the newer generation, rotis that were once exclusively made manually, are being produced using automatic roti-maker machines.
Rotis and its significance in evolving gender-roles:
The fact that a category of food can be integral to deciding gender roles may sound absurd, but it stands as a well-proven fact. For generations, it has been the women of the house who have been expected to perform kitchen duties, regardless of how time-consuming and mundane it can be. Unlike other dishes, making a roti requires manual labor and constant focus at every step of the process. Needless to say this left women with very little scope to explore their own interests or even have a laid back of relaxation. 
The rigid gender roles are not that rigid anymore, and women have started taking out time for establishing their careers. Meanwhile, men have also begun to enter the kitchen and share their long due responsibility of contributing to the household chores. However, even today in homes where couples share the household tasks, the man in the house while contributing to cooking any sort of dish, still shirks from making rotis. 
The current dynamics still sees women overburdened with the responsibilities of work as well as home. Since men at large are not trained in the grueling process of roti-making, families often end up ordering food from restaurants or consuming frozen food which has a serious negative impact on one's health. Given the mounting problems in this regard, the invention of automatic roti-making machines was only natural.
How tedious is the process of making rotis?
Making rotis is an art, an acquired skill rather, and a tedious process.
It does take practice to master it and even after you master it you require patience to make them every single time. Add to it the grind of making rotis daily for a meal, and in many cases, two or more meals. The time involved in making a roti varied from 30 – 45 minutes or more, depending on the size and appetite of the family. 
The process begins with mixing dry flour and water to knead the dough to a perfect consistency. The kneaded dough is divided into dough balls of the right size. These dough balls are then rolled into evenly shaped rotis. The rolled rotis are then cooked in a skillet to a golden brown.
To cook them from the inside, they have to be puffed properly which requires practice and skill. 
Bearing the heat of the cooking source while making rotis is another challenge in the process.
THE NEED FOR AN AUTOMATIC ROTI-MAKER:
It is a blessing to live in an era where all the domestic chores that would once occupy a person's time and restrict one's time to be spent mostly in the house can be performed automatically by machines. We are all familiar with gadgets such as washing machines, mixers, grinders, refrigerators, and sewing machines that have simplified daily living.
The dependence on machines to make life easier is making its way to the kitchen as well with the tedious and time-consuming task of roti-making being taken up by automatic roti-makers. Investing in an automatic roti-maker in such a scenario would soon become a necessity.
Let us make a rough estimate of the required number of rotis in an average household in a week. If a family of four eats rotis once every day and each member eats three rotis then they require approximately 12 rotis at a time. If they eat roti only once every day they require about 84 rotis and roughly seven hours of labor in a week.
An automatic roti-maker will ensure that a family eats fresh and healthy food every day. Moreover, it won't come at the cost of a person's sacrifice of time, labor, sleep and at times even a career. 
Fundamentals of choosing the best automatic roti-makers: 
To choose the right roti-maker you must consider the following pointers: 
1. BUDGET:
First and foremost is your budget.
It is said, everything good comes at a price, and so do automated devices.
There is a new market of smart home-products or domotics which are now available for sale. From automated switchboards, temperature controls to smart land mowers and security system – you can get an automated version of any electric home appliances.
Available automatic roti makers are expensive, to say the least. The price-range of automated roti makers isn't very wide but none of them is priced below 900$.
If that is beyond your budget, you can opt for a hand-operated roti maker which could cost around $25 to $30.
Saving up money to invest in an automatic roti-maker is a smart move that would yield results in the long run. It will improve the quality of your life by saving you time, money and the much-neglected sleep.
2. QUANTITY OF ROTIS REQUIRED:
You must choose a roti-maker based on the number of rotis you require per day.
An average household requires 15 to 20 rotis per day. For that purpose the automatic roti-maker, Rotimatic would make a perfect choice. Other than letting you choose the type of flour, level of thickness, oil content, and roasting, it can dispense 20 rotis at a time with each taking 90 seconds.
However, it is useful to remember that Rotimatic is designed to suit the needs of a domestic kitchen. If you are looking for an automatic roti-maker which can produce rotis on a large scale then you can consider buying Chapati Magic Automatic Chapati Making Machine, Greatcity Automatic Chapati flatbread maker, or Doughbot. These large scale automatic roti-making machines can prepare from 800 to 900 rotis in an hour and are ideal for restaurants where rotis are made in large quantities.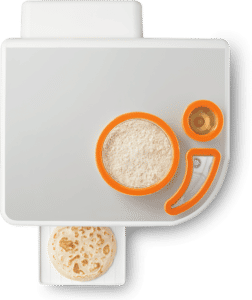 While Rotimatic is the size of an average microwave the other automatic roti makers are quite huge. Rotimatic can easily fit into a household kitchen, the other roti-makers cannot.
3. REQUIREMENTS IN THE ROTI-MAKING PROCESS:
The automatic roti-makers manufactured by different companies perform the task of making rotis differently. For instance, Chapati Magic Automatic Chapati Making Machine has the mechanism to knead the dough, divide the dough into balls, roll them further into rotis and eventually bake them. On the other hand, Greatcity Automatic Chapati flatbread maker does not knead the dough or make dough balls but flattens handmade dough balls into round rotis and bakes them. The Doughbot is enabled with the mechanism to knead the dough, make dough balls and roll them, but it leaves the task of baking them for the users to perform on their own.
Rotimatic just requires you to put the measured ingredients into the equipment and choose the type of roti you require. It is designed to perform every step necessary for roti making, from kneading the dough, adjusting its consistency, flattening the dough balls evenly, puffing and eventually baking them.
Rotimatic is a hands-free, mess-free, and fully automatic device. Moreover, it is AI and IoT enabled because of which it can autocorrect and upgrade itself. This facility is not available in any other automatic roti-makers.
Final word:
Since automatic roti-makers do not come cheap and are in most cases complicated devices, it is important to analyze and understand your requirements carefully. In order to choose the right automatic-roti maker for yourself, your business or your family, it is advised to do one's own research and market survey. We hope our brief guide will help you narrow down on the automatic roti-maker ideally suited for you.
The post How to Choose an Automatic Roti-Maker appeared first on Rotimatic.