Roti Makers: A Comparative Study
With the growing number of options of roti-making machines, it is crucial to do detailed research on the available contraptions before taking one home. 
Flatbreads, or rotis as they are commonly known in India and its neighboring countries, is a staple food for millions. Consequently, as youngsters migrate from their countries – be it to pursue academics or a career – they take a part of their culture with them. Pressed for time yet keen to enjoy the familiar taste from back home, they are quick to turn to automatic roti-makers to significantly cut down the effort put into making a traditional Indian flatbread.
Types of Roti Makers
Roti-making machines have been around for quite some time, and have evolved with the advancements in technology. Depending on the degree of automation they provide, the most popular ones in the market right now can be divided under the following categories: 
1. Manually Operated Roti Makers: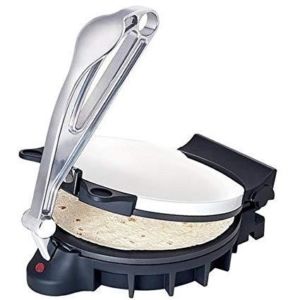 A random google search on Roti or Chapati makers would enlighten you on the number of manually operated Roti makers available for sale online as well as in the market. Reputable kitchen appliance brands, such as Prestige, Bajaj, and Panasonic to name a few, have launched at least one model of a manually operated roti maker. The process of making a roti using these involves kneading the dough to make extra soft dough balls. These are pressed into thin discs between the heated lid and pan of the appliance where it puffs on reaching the optimum temperature within minutes.
2. Semi-Automatic or Fully Automatic Roti Makers: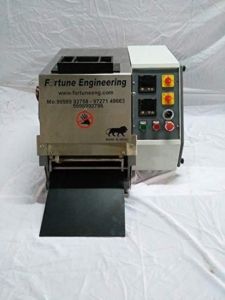 Semi-automatic or fully automatic variants of roti makers are popular as well. Some of them require human supervision and involvement which varies from minimal to average. However, these semi-automatic or automatic roti makers are huge in size and capacity. They are designed to operate in places where rotis need to be manufactured in large quantities as they dole out 600-900 rotis per hour, and are ideal for restaurants. Therefore, these roti makers would not fit into an average kitchen as they are massive and perhaps too expensive to suit the purpose.
3. Automated/Smart Roti Makers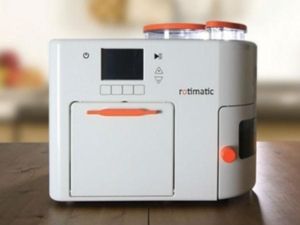 The new addition in the smart world of smartphones, smartwatches, and smart gadgets is a smart roti maker. Unlike the other variants, this category has just one player in the market going by the name Rotimatic Roti maker. The device is enabled with Artificial Intelligence and IoT. It is designed to upgrade and autocorrect its functions as per requirements. 
Rotimatic is built to become a fundamental kitchen fixture for those who have busy schedules or just want to dedicate more time to leisure activities. It is the size of an average microwave and can easily fit into a household kitchen. 
The process of making a perfectly baked roti using this automatic roti maker is simple. All you have to do is pour the ingredients and press a few buttons. Rotimatic will dish out fresh rotis for you in less than 90 seconds.
A quick comparison of roti makers:
Take a simultaneous look at various features of roti makers currently available in the market in the data compiled underneath: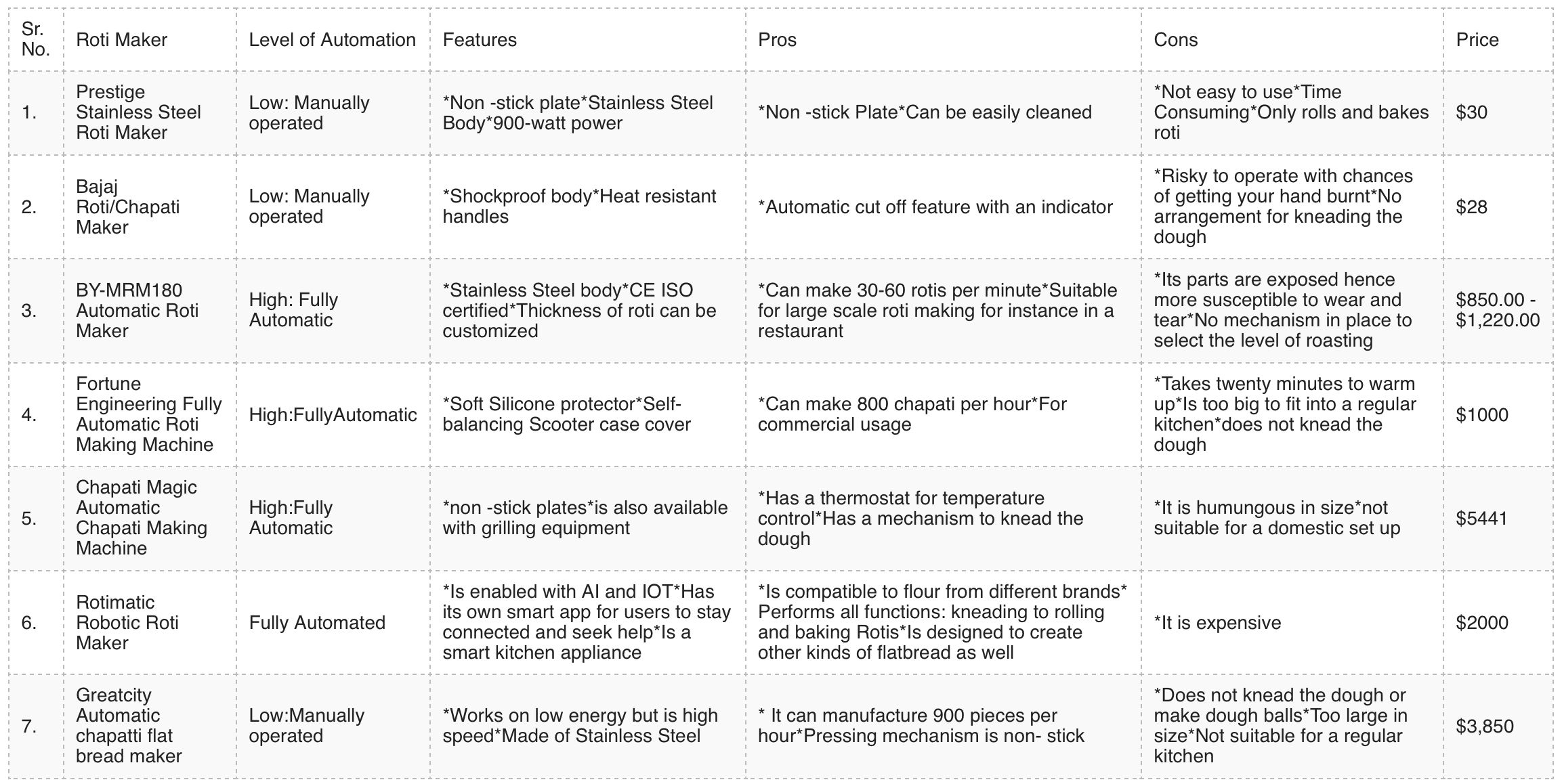 It is important to not hoard unnecessary gadgets. However, it is also equally important to wisely choose the ones that make our lives easy by cutting down on the effort, hassle, maintenance cost, cost of installation, and energy consumption. Since roti makers are an investment, it always pays to pick one after thorough research on it. 
The post Roti Makers: A Comparative Study appeared first on Rotimatic.