Rotimatic, Challenging Age-Old Norms and Gender Stereotypes
At Zimplistic, we are working towards making healthy eating easier by enabling users to cook healthy roti with Rotimatic with convenience via technology for their families.
With heartfelt appreciation and encouragement from our users, our motivation enhances three folds.
Despite living in a technology-driven world, a lot of us still depend on the conventional ways of cooking. 
We thank our user Naeem Qureshi for his touching message and speaking aloud about the age-old chore of making rotis and recognizing our efforts, as an organization to challenge gender stereotypes and simplify lives. 
It is true that for generations, it has been the women of the house who have been performing kitchen duties including roti-making without any complaints.
Roti-making is a time-consuming and tedious task, yet this laborious process is often undermined and not much talked about.
We applaud the women who juggle between home and work and balance it out on every front be it professional or personal. 
60,000 homes have already adopted a healthy lifestyle with a healthy choice of Rotimatic.
Our vision, as Zimplistic is to bring about this change in every household by bringing Rotimatic to every kitchen, one family at a time to change the roti making technique for everyone.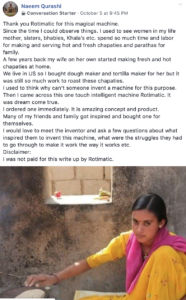 The post Rotimatic, Challenging Age-Old Norms and Gender Stereotypes appeared first on Rotimatic.