Rotimatic Recipes: Healthy Food Picks For The Picky Kids
A kid's boundless energy needs to be matched with the right kind of food and nutrition. With Rotimatic, health and convenience are a combo pack and you never have to wonder again what to serve your little one!
Be it breakfast, lunch, dinner, school tiffin or evening snacks, the versatile Rotimatic roti can don a variety of hats to amaze everyone with cool recipes, lip-smacking taste and uncompromising quality.
Choose from a variety of settings to select your roast level and thickness and get ready for the roti to become pizza base, wraps, rolls.
Our clique of Rotimatic owners once again, have blazed the path to prove that Rotimatic is so much more than just roti! It's about innovative recipes, experimenting with resources and more than anything else, it's about family.
Read on to find how Rotimatic families have reinvented healthy food with a twist of gumption to keep the children on their toes and excited about the next healthy meal.
Rotimatic Recipes: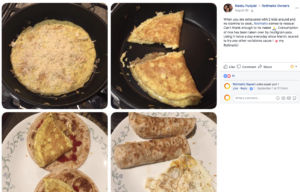 Cheers to Neetu Punjabi and her various takes on the Rotimatic roti. It makes us super happy to see that customers are enjoying the best of the Rotimatic experience.
Tortilla wraps, egg rolls, marghe-roti (margheritta pizza with the roti as base), everything is up for grabs with Rotimatic.
Never again will the children sigh with boredom at the same, old meals and you no longer have to wrack brains to come up interesting, healthy varieties.
Here is a Rotimatic cheat sheet of sorts, sourced from our innovative owners, to help you score points with your child without compromising on health, quality or time!
Cheese and Ham Quesadilla with Rotimatic: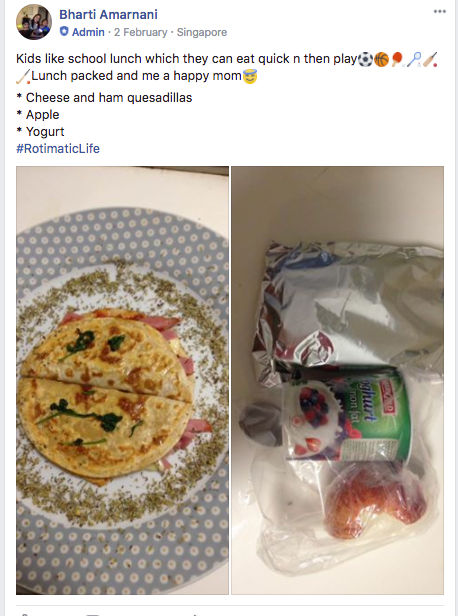 Quesadilla with Rotimatic? Kudos to Bharti Amarmani for making lunch problems a question of the past.
Kids need a punch of energy before they are off to play and the scrumptious quesadilla is a clever answer to keep them from losing essential nutrients during their game.
Chapati Sandwich with Rotimatic: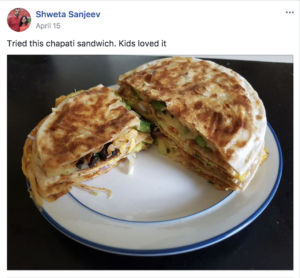 What do you get when you combine healthy chapatis and the flavours of a stuffed sandwich? Happy children and relieved parents!
Take a cue from Shweta Sanjeev who has put an end to snacking woes.
Take three Rotimatic chapatis, stuff the layers with toppings of your choice and cut through them for some aesthetic beauty. That is it!
Rotimatic Pizza: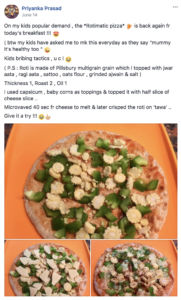 For all the children's cravings for pizza, here is finally an answer that will satisfy you both. Replace the base with fresh Rotimatic roti and make it the canvas for your art.
Priyanka Prasad adds a refreshing twist by placing the roti with cheese in the microwave to melt it and then crisping it by tossing it on a tawa.
Even the roti is a brilliant creative feat by combining multigrain wheat flour with the flours of jowl, ragi and oats with a pinch of ajwain and salt. This pizza is a hot plate of nutrients and even keeps the kids asking for more!
https://rotimatic.com/recipe/veggie-spread-pizza/
Kathi Roll with Rotimatic: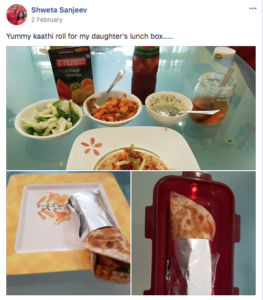 Remember our childhood with the abundance of lip-smacking kathi rolls? They are healthy, tasty, filling and with Rotimatic, they are a matter of minutes!
Shweta Sanjeev once again shows us, dishing out healthy food for the kids are no longer a chore with a little bit of gumption.
Place stuffing in the middle of Rotimatic roti, roll and seal it with aluminium foil and you are set! Easy for the children to munch over a quick tiffin break and packed with energy to last them the day.
Rotimatic Roti and Sabzi: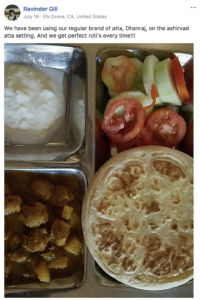 For a whiff of nostalgia and feeding children the food of our tiffin breaks, Rotimatic can serve the traditional meal at a fraction of the effort.
Serve with Aloo sabzi (or any sabzi of your choice), curd and salad for a wholesome meal that promotes digestion and healthy carbohydrates.
Whether it is for lunch or dinner or some mid-day craving, keeping the children eager for healthy food has never been this easy.
https://rotimatic.com/recipe/sesame-pearl-millet-roti/
Rotimatic Roti and Aamras: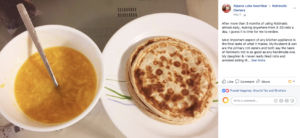 Combine healthy roti with the tang of mango puree to get the children up and ready for the day.
With the beta testing program, you can also couple this with pooris for a more indulgent meal.
Hassle free and rich in nutrients and fibre, this one by Alpana Loke Keertikar is a win-win for children and adults alike.
Also, watch this amazing recipe on how to make a Masala Roti Wrap :
Have more interesting recipes to excite the children with Rotimatic Roti? We are listening!
Join our community of passionate enthusiasts who share tips, hacks and recipes to get the most out of Rotimatic and learn more about their personal experiences.
23,000,000 Rotis made, 40,000 families with smarter kitchens, 20 winning recipes every month across 12 countries. Join the Roti Revolution! Click below to become a Rotimatic Owner today!

The post Rotimatic Recipes: Healthy Food Picks For The Picky Kids appeared first on Rotimatic.