Rotimatic Sales Dominate the Market with 40000 Units Off the Shelf
Zimplistic's bestselling product, Rotimatic, is a market success raking in massive revenue with an exponentially expanding user base.
The idea of having robots at home to help out with domestic chores is no longer a thing of science fiction. You can see variants of it already in use and rising. This year happens to be especially noteworthy for its marked rise in demand for domestic robots, and understandably so, give the ever-intensifying schedules of individuals. It is, therefore, no wonder that Rotimatic, being a high-performing appliance, is selling like hotcakes.
A Brief Background of Rotimatic
The fully automatic roti-maker is the product of years of research and several patents by innovator team Pranoti Nagarkar and Rishi Israni. The duo has the vision to be instrumental in the realization of intelligent kitchens and Rotimatic is a significant step towards that goal. The countertop robot has automated one of the most basic food items that are an indispensable part of most cuisines around the world – the flatbread. Call it roti, tortilla, pizza base, pita, flatbreads have a global presence.
However, unless one is extremely well-practiced in the art of making flatbread, cooking one from scratch is a tedious and time-consuming ordeal. In the age we are living in, taking time out from our busy schedules to hand-make rotis is something we opt out of, often choosing unhealthy alternatives such as frozen rotis or takeaways from restaurants. In such an environment, Rotimatic is a lifesaver. It economizes time and effort by automating the multi-layered process of making flatbreads and does not compromise with nutrition either.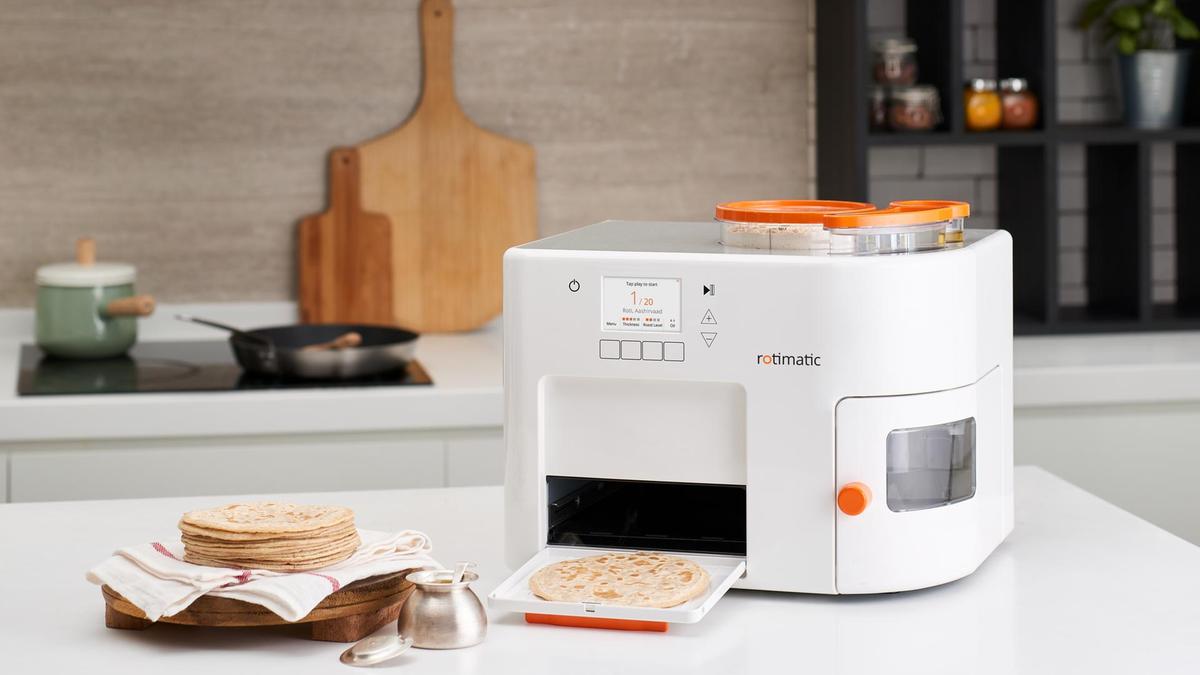 Rotimatic is not the only Kitchen Robot out there
Domestic robots are proliferating at a rapid pace and The Boston Consulting Group expects expenditure on them to reach $87 billion by 2025. Rotimatic by Zimplistic, priced at $999, is catching up to popular players such as Miso Robotics' Flippy in the kitchen robotics space. Julia, a work-in-progress by Nymble Labs, will be a machine intelligent enough to recreate a select list of recipes according to the personal taste preferences of the user.
Adding to the list of AI-based robot chefs that can mimic human behavior in assisting in cooking food is Mechanical Chef. It is proficient in preparing over 20 Indian dishes. Suzumo's sushi robots have automated the process of putting together sushi and are very popular. The UK-based Moley's robotic kitchen takes it a step further by boasting of the capability to recreate recipes from celebrity chefs such as Thomas Keller and Gordon Ramsay.
Rotimatic Stands Out among other Innovations in the Kitchens Robotics Space
The high Rotimatic sales can be attributed to its uniqueness. It is the only fully automated, AI and IoT-enabled roti-maker made for domestic use in existence. It can be paired with iOS or Android applications so that users may operate from synced devices as well through the Rotimatic app. The IoT feature also enables the automatic download of updated versions of the Rotimatic software. 
Rotimatic utilizes the 32-bit microprocessor-controlled 10 motors, 15 sensors, and 200 moving parts to give you fresh rotis in under two minutes. The robotic elements of the machine dispense measured quantities of flour, water, and oil in the dough mix. This dough is kneaded to an ideal consistency by the internal mechanism of the appliance to form perfect discs for roasting into puffed up golden brown rotis. Each stage is carried out in dedicated parts within the unit.
Users can choose the number of rotis that Rotimatic will prepare in a batch (the maximum being 20), the amount of oil to be added to the dough, the thickness of the roti, and the level of roasting. The creators of Rotimatic paid a lot of attention to the consistency of quality of the flatbreads made in the appliance, and each roti in a batch is satisfactorily is exactly the same.
Rotimatic Sales Testify its Demand – 40000 Units Sold
The promise to minimize user intervention when employed has struck a chord with homemakers and professionals accustomed to a convenience economy. Rotimatic, which is now available in the US, UK, the Gulf countries, Singapore, across Europe, and Australia, has sold over 40000 units, generating about $40 million. The company brought its total funding to $48.5 million by raising $30 million earlier this year.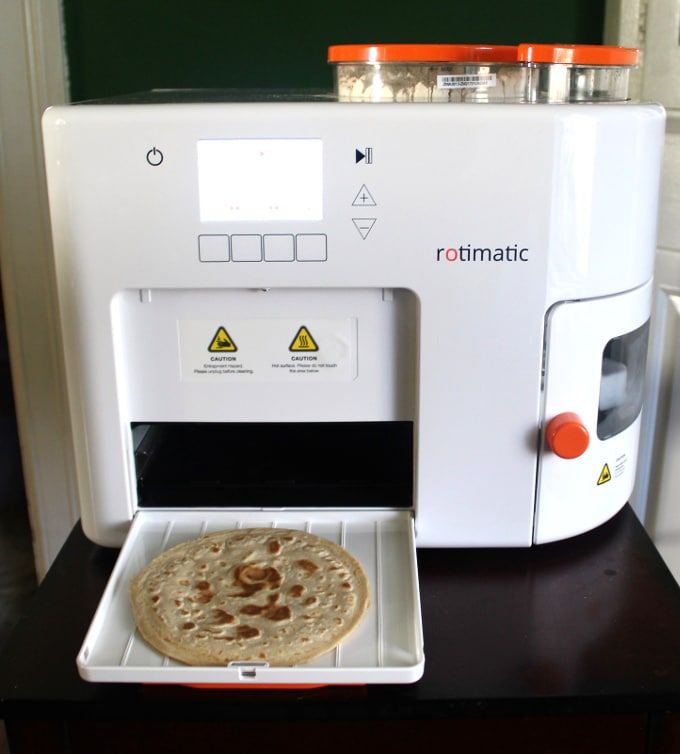 Advanced technology is making its way into every sphere of our lives and domestic kitchens is an area to look out for interesting innovations in. Planning meals per our individual health needs and taste preferences with minimal labor are the ultimate goal of futuristic kitchens.
The post Rotimatic Sales Dominate the Market with 40000 Units Off the Shelf appeared first on Rotimatic.