Rotimatic Today, The World Tomorrow
This June will mark 10 years of hard work and passion that has gone into Rotimatic. The product itself only entered the market in 2016, sure, but like most success stories, it's the journey to our destination that has defined us at Zimplistic.
Rotimatic – the automated, A.I. and IoT-enabled flatbread maker does away with the tedious endeavors of measuring, mixing, kneading, flattening, cooking, and then the puffing of a roti. It's no wonder that this marvel of a kitchen appliance is widely sought after, and 10 years on, we have just signed the Series C round of funding to finish what we've started.
Just In Time
Series C is the third round of funding for startups on the basis of excellent performance and potential in its industry, and the $30 million dollar injection will propel Zimplistic and Rotimatic into more markets, and consequently, into more homes.
The funding is led by Credence Partners, South East Asia's leading private equity fund that specializes in investments in manufacturing, logistics, information-communication technology, mobile devices, services companies, and consumer sectors. They're joined by EDBI, a premier Asian investor firm that is the investing arm of Singapore's Economic Development Board. The two powerhouse investors come together as Rotimatic partners at a time when we are rapidly evolving and innovating to make Rotimatic a gadget of the smarter kitchen.
Lost and Founders
Co-founders and Co-CEOs Pranoti Nagarkar and Rishi Israni hatched an idea after sharing their frustrations in the kitchen as a working couple. A wholesome home-cooked meal always felt like a far-fetched dream with most of the hours spent at work and on the commute, leaving very little time and energy to settle down and prepare rotis.
And that's the thing about rotis, isn't it? A staple to the Indian subcontinent in the world, well over a million households spend painstaking hours mixing, kneading, flattening, and then cooking rotis – and the perfect puff of a roti remains elusive if they aren't cooked precisely and expertly.
So two engineers – one with expertise in mechanical, and the other in software, sat down to first conceptualize an integrated solution, before materializing it. 10 years later, Pranoti had this to say:
"We at Zimplistic are gearing up for Rotimatic's next great leap. This new round of funding will empower us to focus on cutting-edge R&D efforts in an endeavour to have Rotimatic in every kitchen across the world."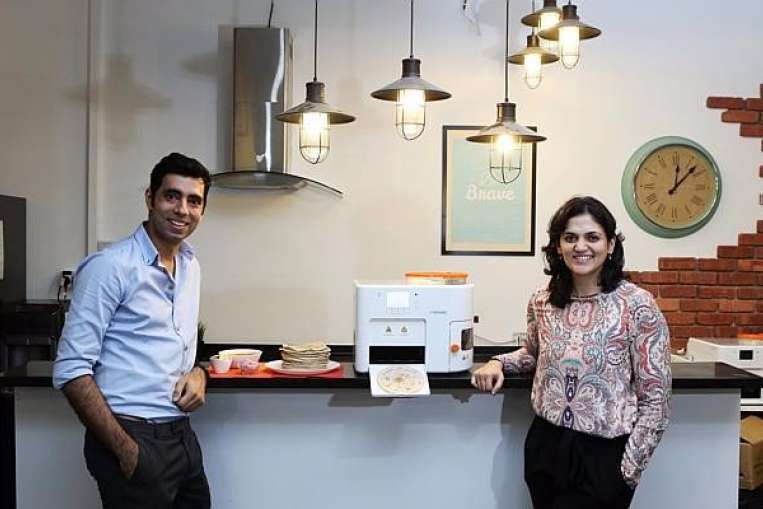 Rishi himself couldn't hide his pride and determination and added:
"Raising series C, for such a futuristic kitchen robotic product signals the coming of age of this invention. With support from our existing investors such as Robert Bosch Venture Capital and NSI Ventures and with new partners such as Credence and EDBI, we are poised to take the kitchen industry by storm. To date, we have more than 30,000 customers who have made more than 15 million flatbreads and are using Rotimatic on a daily basis."
Moving Forward
The timely Series C funding has presented us with exciting opportunities, but where there are opportunities, there will be expectations. Along with immediate plans to expand and better our customer support experience for a more seamless Rotimatic customer journey, we're thinking of reaching out to bigger crowds.
To date, you can find the Indian diaspora relying on their Rotimatic in the UK, showing off their Rotimatic in USA, having fun with creative recipes made from their Rotimatic in Canada, reminding people of the taste of home with their Rotimatic in UAE, and even spreading the love of rotis with their Rotimatic in Australia.
In the near future, the Rotimatic's coming home. We aim to introduce the Rotimatic into the Indian market, a milestone that will get us closer to converting flatbread consumers, amounting to 25% of the world, to Rotimatic users.
The future is well and truly ours to knead. Won't you join us?
The post Rotimatic Today, The World Tomorrow appeared first on Rotimatic.