Rotimatic – Top 3 Healthy Roti Recipes
In today's sedentary world, who doesn't want to have a healthier lifestyle? Eating healthy food definitely tops the list of our goals towards a healthier lifestyle, doesn't it?
As you wonder if this time your resolve to become healthy will last, we at Rotimatic want to do our bit to help you eat healthy.
Rotis are predominantly consumed in South Asian and specifically Indian Cuisine but these healthy flatbreads are extremely versatile. We do a lot of experiments with rotis, so do other Rotimatic owners.
Combining some ideas from the community, we have churned out three healthy roti recipes to help you stick to your health resolutions.
There is no limit to creativity with food, so go on and add your own zing to these or get inspired by these and try something new.
Here are three roti recipes for a healthy meal:
Roti Fattoush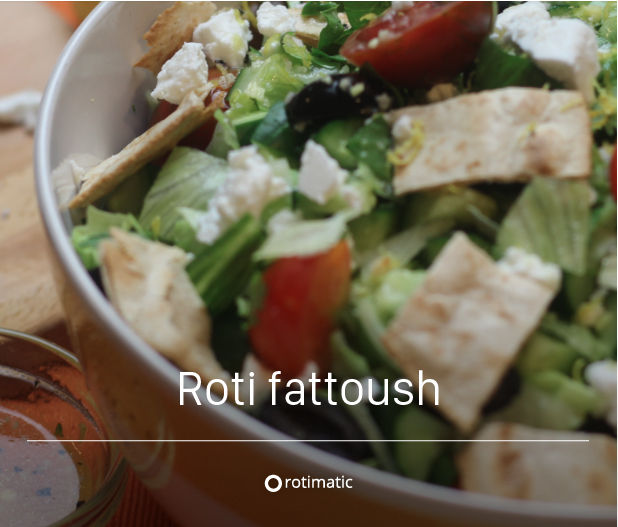 This salad, with a roti twist, has almost everything your body needs to maintain its health. It is rich in essential vitamins like Vitamin A and Vitamin C and minerals like manganese and selenium.
The Recipe for Roti Fattoush:
Ingredients
1/2 Lettuce, roughly diced
250g Cherry tomatoes, halved
2 Japanese Cucumber, small diced
Handful of Fresh Coriander
1⁄2 cup Olives, halved
1 tbsp Goat cheese
Handful of Mint leaves
Dressing
3 tbsp Honey
1 tbsp Lemon juice
1 tsp Lemon zest
1 tbsp extra virgin olive oil
1 tbsp vinegar
1 tsp minced Garlic
Salt, pepper
Instructions
(2- 4 servings)
Step 1: Wash all the vegetables. Dice lettuce, Japanese cucumber and put them in a mixing bowl. Set aside.
Step 2: Half the cherry tomatoes and olives. At the same time, roughly chop the coriander and mint leaves. Put everything into the same mixing bowl.
Step 3: Pre-heat oven to 180 °C. Place 2 rotis on a tray and bake them for 3 to 5 minutes or remove when rotis become crisps.
Step 4: Prepare the dressing by mixing all the ingredients in a separate bowl.
Step 5: To serve, toss the dressing into the salad bowl. Finish by breaking the goat cheese on top and cut the rotis into 1⁄3 to add for some crunch.
Smoked salmon rotis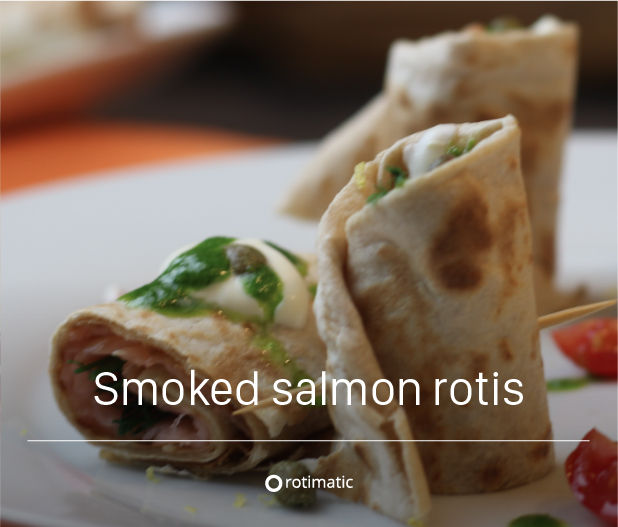 This simple but delicious recipe brings out the best in the smoked salmon. Packed with omega 3 fatty acids, smoked salmon rotis will be beneficial for your heart, and for your brain.
The Recipe for Smoked salmon rotis:
Ingredients
100g Smoked salmon
4 tbsp Crème fraîche
1 tsp Lemon zest
1/2 tbsp Lemon juice
1 tbsp small Capers
Fresh dill (garnish)
Instructions
Step 1: Mix crème fraîche with lemon juice and zest In a small mixing bowl. Set aside.
Step 2: To serve, take a fresh roti and add a slice of smoked salmon, drizzle with crème fraîche.
Step 3: Top it with small capers.
Step 4: Garnish with fresh dill. Ready to serve.
Tropical fruit Roti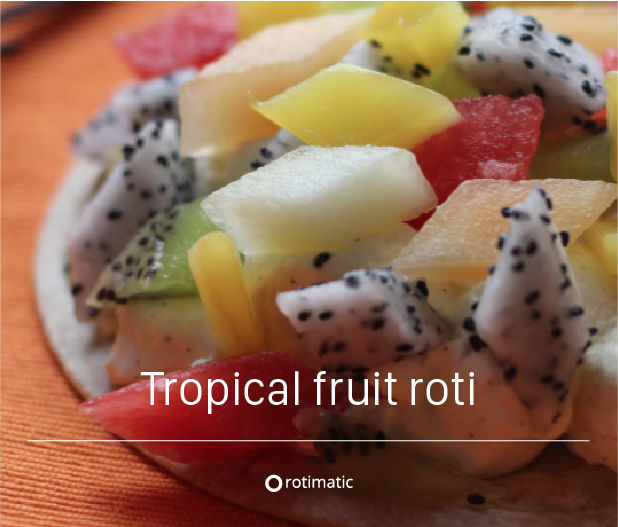 This recipe is perfect to cool your mouth after a meal. Rich in vitamins B and C, the tropical fruit roti is a great dessert for the health conscious.
The Recipe for Tropical Fruit roti:
Ingredients
1/2 Cantaloupe fruit
1/2 Dragon fruit
1/2 Papaya
8oz softened Cream cheese
1tbsp Vanilla extract / 1 Vanilla Pod
 Instructions
Step 1: Mix softened cream cheese & vanilla on a mixing bowl.
Step 2: Cut the fruit into small triangles. Set aside.
Step 3: Take a fresh roti. Spread a good layer of vanilla cream cheese, add cut fruits on top and they are ready to be served. Garnish with mint leaves if desired.
Bonus

–
Watch this amazing recipe of healthy Chat puri that you can make using Rotimatic:
Hope these help you maintain your health streak and give you another reason to indulge in fresh and puffed Rotimatic rotis.
If you try these healthy roti recipes or experiment with other variations, do share them with us. Tag us on social media #RotimaticLife
23,000,000 Rotis made 40,000 families with smarter kitchens, 20 winning recipes every month across 12 countries. Join the Roti Revolution! Click below to become a Rotimatic Owner today!
The post Rotimatic – Top 3 Healthy Roti Recipes appeared first on Rotimatic.