Are Roti-Making Machines Keeping Traditional Cuisines Alive Among NRIs?
The advent of automation into the domestic sphere has introduced a new genre of self-sufficient kitchen appliance – automatic roti makers. Machines like Rotimatic keep the authentic taste of traditional cuisines alive.
Automation is not just about our future but also our present. While we are yet to realize our complete potential in robotics and automation, we have come a long way. We have entrusted automated machines with the most crucial of tasks such as bank transactions, health care, and even national defense and security.
The ingress of automation can be understood even more clearly from a prediction made by Professor Henrik Christensen, from the University of California San Diego's Contextual Robotics Institute. He says that children born this year would never drive cars as self-driving cars would become commonplace by the time they grow up.
Robotics and Automation have also entered our domestic spheres and into the kitchen setting ground for a smart kitchen revolution. One of such machines gaining popularity is the range of automatic roti making machines that keep traditional food alive among the generation pressed for time.
Automation in Your Home
The prototypes of domestic automated machinery, or, domotics, entered homes in the early 1900s. They were powered by gas or electricity. These include washing machines, refrigerators, dishwashers, sewing machines, and water heaters. Initially, these could only be afforded by the rich and elite. As electricity became available more widely and prices of electrical appliances decreased, they made their way into the homes of the middle-class families. Today, these have become essential household appliances.
The present generation of appliances includes smart gadgets that are equipped with sensors, AI-enabled to upgrade and autocorrect themselves. Their other defining features has them IOT enabled, connecting them to a web interface, operable via smartphones or voice control devices such as Amazon Alexa and Google Home.
One of the generation appliances, Rotimatic is an automatic roti-maker that's AI and IoT enabled. There are quite a few automatic roti-makers available in the market but Rotimatic is the first of its kind. You can know more about Rotimatic here.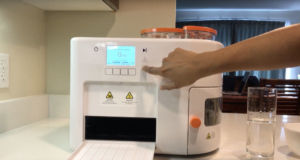 The Lack of roti making machines
You will find a machine available in the market for almost every task you do in the kitchen, there are mixers, grinders, coffee makers, and dishwashers to name a few.
In comparison, there aren't automatic roti making appliances available as widely in the market. Roti or chapati is the key ingredient in the meals for about five billion people, and the demand for equipment to make these flatbreads quicker and easier is gradually rising.
One of the major reasons for this could be the fact that roti making isn't a generic and mechanical process as chopping, grinding or wiping. It is a highly complex task and requires significant human labor. It requires estimating the correct quantity of ingredients for mixing and kneading the dough, and skill to roll it into a perfectly round shape. It continues to know the optimum temperature to roast the rolled out dough to get puffed steaming golden brown rotis.
Making rotis is a skill that is acquired with practice and patience. This makes designing an efficient roti-making machine that is able to perform all of the above processes quite a challenge. There has been some manually operable and semi-automatic roti making devices in the market but that has been sufficiently successful. Recently there have been some attempts at making commercially available automatic roti makers for a household kitchen let us take a look at them:
1. Fortune Engineering Fully Automatic Roti-Making Machine:
Priced at a whopping $4000, this one is suited for making chapatis on a large scale such as in a restaurant. Also, it makes semi-cooked chapatis at the speed of about 800 chapatis or rotis per hour. All you are required to do is make dough balls and put them into the hopper machine. It requires a warm-up time of about twenty minutes.
2. Doughbot by Mukunda Foods: 
This one is also suitable for making rotis on a large scale. It is designed to knead the dough, make dough balls, and flatten them into evenly round rotis. However, it doesn't bake the rotis. That essential and final step in the strenuous roti making process in left out in doughbot.
3. Rotimatic:
This automatic roti maker is designed for a domestic household kitchen. It performs all the steps in the process of roti making from kneading the dough to making dough balls, rolling them into round discs, and baking them under a record time of 90 seconds. Moreover, it allows you to customize your roti as it lets you choose the levels of thickness, the degree of roasting your roti, flour type, and oil content. Branded as a roti making robot, Rotimatic is AI and IoT-enabled.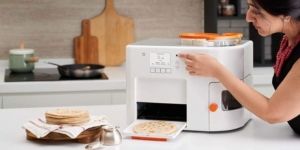 Advantages of an Automatic Roti Making Machine
Preparing roti in an average household requires about an hour every day. An automatic roti making machine saves you time, and since time is money, it saves you both

Making rotis implies standing in front of a heat source which can be harrowing, especially during summers. An automatic chapati maker saves you from that ordeal

All the rotis made would be of consistent quality, from the first to the last one. Unlike a human, a roti making machine is not influenced by fatigue, irritation or boredom

If you are not skilled enough to make perfect round rotis, or living away from home and do not like to store-bought food, an automatic roti maker can make you fresh healthy wholesome rotis

It is easy and safe to operate and can be operated by children above a certain age bracket

A smart roti maker which is IOT enabled, such as Rotimatic, enabled can be operated via your smartphones. They can follow received instructions to make rotis when you are nowhere in its proximity. This automatic roti maker can upgrade and autocorrect itself. In fact, the rotimatic smartphone application makes rectifying software-related errors possible with the click of a few buttons. The appliance is the size of a microwave and can easily fit into one's kitchen

Disadvantages of an Automatic Roti Making Machine:
Although the advantages of these machines greatly outnumber its disadvantages, here are a couple of them that can't be ignored:
  They are expensive with prices above $900

  The rotis prepared using these could feel slightly different from individuals who are accustomed to eating hand-made rotis regularly

To Buy or Not to Buy?
Automatic roti makers are expensive but they are an investment for a better lifestyle, similar to investments that we make in other electric appliances in the house. Moreover, a smart roti maker such as Rotimatic is enabled with sensors, software, AI, and IoT which enhance its performance manifold and makes it worth your money.
The rotis made by automatic roti makers are not the exact replicas of handmade rotis but are just as healthy and fresh. The difference in taste is not as much of a disadvantage and is just a matter of getting used to.
For women who are always grappling with domestic responsibilities as well as career-related pressures, these automatic roti makers can prove to be empowering assistants. For people living away from home or who do not know how to make rotis, these roti makers can bring them a taste of home. For future generations, who will not have to learn to make rotis this could mean a revolution. So is it wise to invest in the new generation of smart automatic roti makers? If you depend on rotis for a good meal, the answer is a definite yes. You can purchase yours from Amazon or the official website.
The post Are Roti-Making Machines Keeping Traditional Cuisines Alive Among NRIs? appeared first on Rotimatic.