Easy Rotimatic Recipes to Surprise Your Wife
This October 8th, celebrate Karva Chauth with Rotimatic and flip sides for a fun, romantic change that is sure to leave you both with an intimate story. Traditionally, Karva Chauth is celebrated by married women observing a fast from sunrise to moonrise for the longevity and safety of the husband and as a ritual celebrating matrimonial affection. Why not go a step further and ensure that the woman of your dreams who tackles a million chores on a daily basis, gets a well-deserved break from everything? Cook up a storm, now that you have the brand-new Puri feature on your Rotimatic!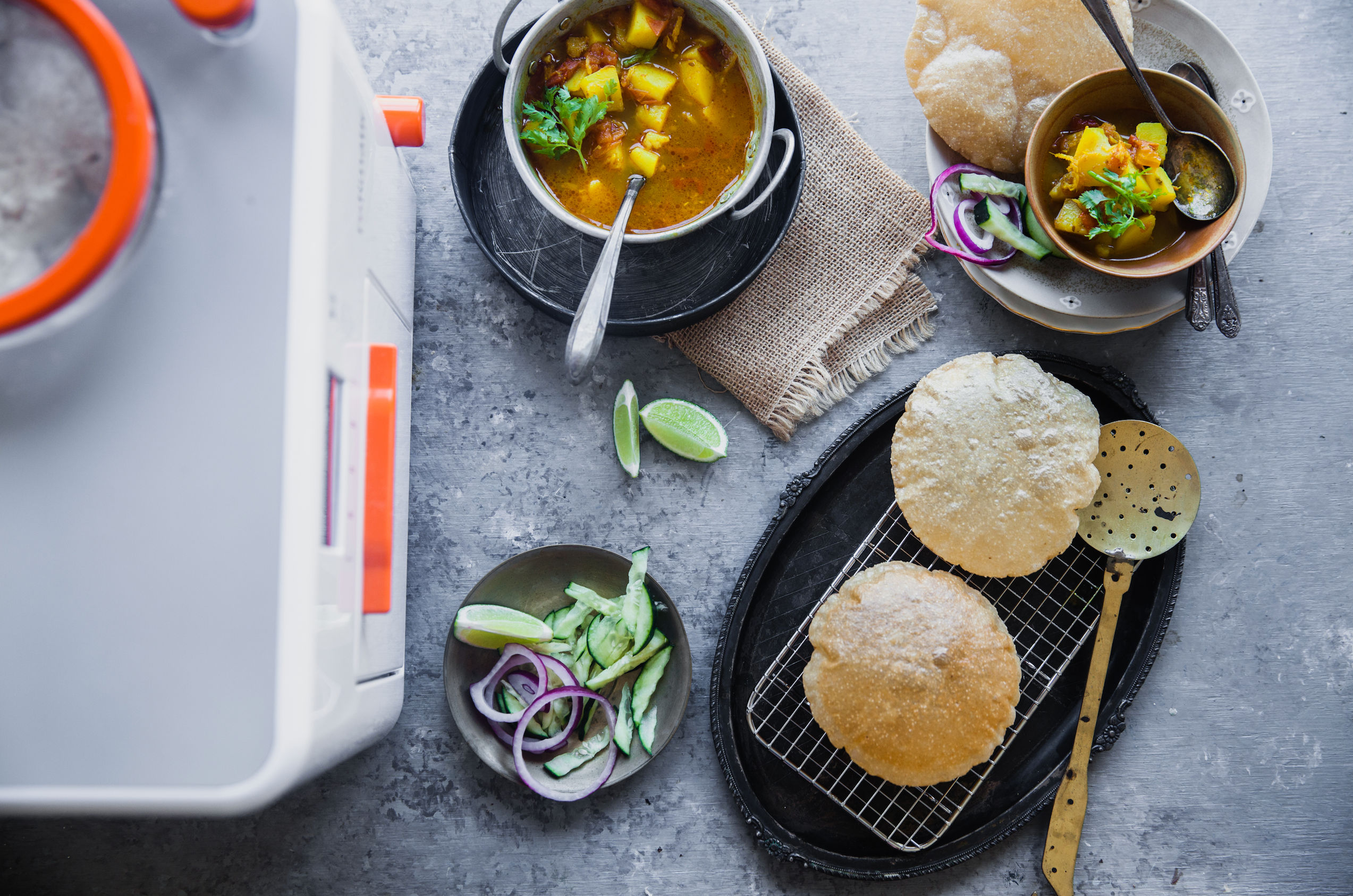 If you're not too confident of your fancy-festive cooking skills, turn to these hassle-free recipes and surprise her with a scrumptious, fulfilling meal as a small symbol of gratitude and appreciation for everything she does. Let Rotimatic do all the heavy-weight lifting as you prepare these super quick recipes and dazzle your lady love with your hidden talent!
These recipes are so easy, quick and healthy, they might just inspire you to enter the kitchen more often and help out with the culinary chores.  For more exciting recipes that are sure to win you brownie points with the wife and children, check out these kid-friendly recipes. With a little help from Rotimatic, cooking, eating and spending time with your loved ones is a lot easier!
Berebere Jackfruit tacos:
Credits: Vegan Richa
We are in love with these super scrumptious wraps that practically cook themselves! Vegan Richa shares one of her favourite go-to recipes that promise to pack a punch with every bite. Her forte lies in vegan, soy-free, gluten-free and even nut free delicious options for Indian cuisine and this recipe is the perfect mix of health, ease and spicy homeliness. The absolutely hassle-free approach makes it easy for you to bring it all together in under 15 minutes and spawn jokes for the next years how the rare occasions on which you cook for the family, you do it perfectly and quickly. You are welcome!
Quick Recipe:
With a little berbere spice blend, transform the humble jackfruit into a delicious full-fledged meal. Shred all the ingredients together by hand or in a processor, add the spices and bake for 35-40 minutes. In the meantime, load flour, water and oil into Rotimatic and choose your settings accordingly. Be generous with the stuffing and do not forget to add a creamy dressing to bring the whole meal together.That is all! No sauté, no caramelising but the recipe definitely adds a kick to shake up the romantic night. For the full recipe and several healthy options, check out the complete recipe on Richa's blog.
 
Hummus Roti Rolls with Beans, Corn and Avocado: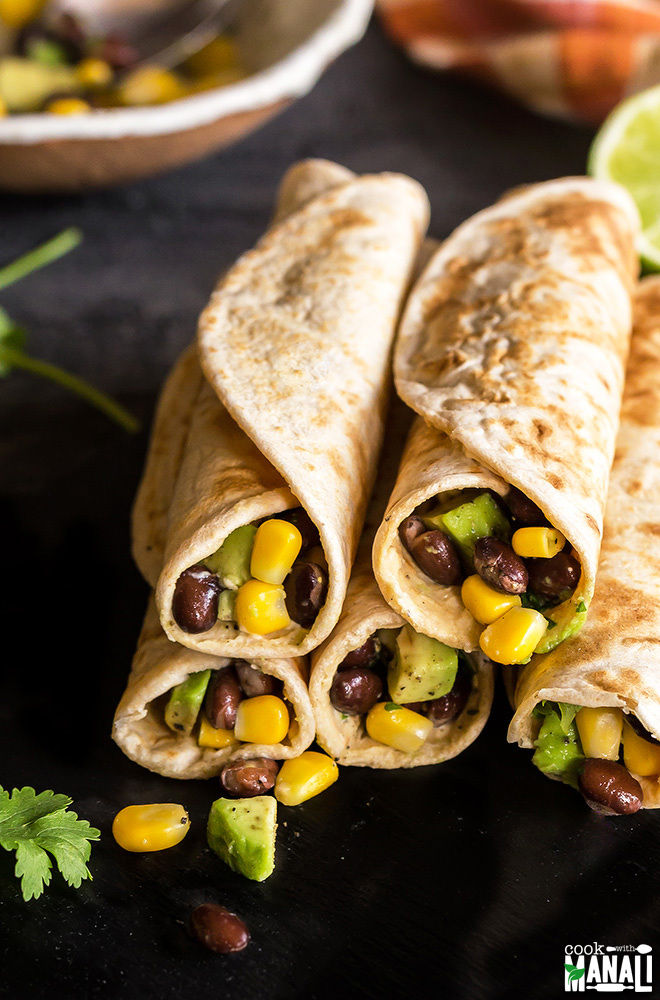 Credits: Cook With Manali
Avocado has received some great publicity over the past couple of years but no one could guess it could go with every cuisine so well! In her blog, Manali shares her protein-packed recipe that takes all of ten minutes and is sure to get both your gut and tastebuds on a happy roll. Serve these beauties with some candlelit decor and watch your lady love swoon with joy as she sees you take all this trouble to prepare her a beautiful, healthy meal that did not come straight out of a packet!
Quick Recipe:
First order of business- fill the Rotimatic ingredient containers with flour, water and oil and adjust settings accordingly. While it prepares the hot, fluffy rotis, prepare your filling. With a little sweet corn, avocado and black beans, you have got a Roll that not just satisfies your taste buds, but also leaves you feeling healthy and full. For the full recipe, head to her blog. She has written a detailed Rotimatic review on her blog and for a quick demonstration video, check out her Youtube Channel. For more customer reviews and personal accounts of Rotimatic experience, read testimonials from our customers here.
 
Paneer Jalfrezi (Cheese and Pepper Stir Fry)
Credits: Playful Cooking
Nothing quite says vegetarian Indian food like the humble Paneer right? The cottage cheese makes a stellar comeback as Kankana uses her culinary skills to whip some serious nostalgia. Surprise your wife with this intrinsic part of Indian cuisine and easily become the man who can prepare Ghar ka Khana and take care of work with equal panache. Maa Ke Haath ka khana can be the next feather in your cap!
Quick Recipe:
Load the ingredients into Rotimatic so that as you take care of the Sabzi, it kneads, puffs and dishes out garam, garam rotis without any loss of time. All you need to conjure this slice of magic is fresh Paneer, bell peppers, tomatoes, some easy to find, desi spices and you are good to go! Garnish with finely chopped, fresh cilantro leaves and voila! You are set to wow with your masterchef skills! Say hello to homemade food of your childhood that you prepared from scratch! For the detailed step-by-step recipe and more such gems, check out her blog.
May this Karva Chauth be the beginning of new rituals and the start of everyone cooking more often in the kitchen. Let Rotimatic help you, help out in the kitchen so that the family sits together and eats healthy, homemade food made together!


The post Easy Rotimatic Recipes to Surprise Your Wife appeared first on Rotimatic.