Europe Calling!: Everything You Want To Know About Rotimatic
After 40,000 families relished the magic of Rotimatic, making over 25 million rotis since, across 12 countries, we're ready to bring the #RotiRevolution to Europe! Ireland, France, Germany, Sweden, Denmark, Norway, and the Netherlands – you're this much closer to your own Rotimatic!
We'll detail all there is to know about getting your Rotimatic, outlined below as follows:
What is Rotimatic, and how does it work?
Is it easy to clean?
What more can I make with my Rotimatic?
What is 30-day Money back guarantee and how does it work?
What are people saying about Rotimatic?
What about Rotimatic's warranty and after-sales support?
How can I contact Rotimatic Support?
---
What is Rotimatic, and how does it work?
Rotimatic is the world's first fully automatic flatbread making robot. It is an unprecedented amalgamation of precision engineering, robotics and design to make the tedious and time-consuming process of roti-making fully automated. You just load fresh ingredients, press play and get ready to enjoy hot, fresh, homemade rotis within 90secs! Now you can wave goodbye to an hour's prep of kneading dough balls each day, and the worries of having a messy island to take care of even after a meal.
Roti quality is the biggest thing we obsessed about when designing Rotimatic, to ensure rotis from Rotimatic to meet the 5 criteria:
1. Fully puffed;
2. Fully cooked both outside and inside;
3. Perfectly round ;
4. Feel fresh, soft and homemade;
5. Remain soft when packed for lunch.
Here's how Rotimatic works :

Is it easy to clean?
Absolutely! Rotimatic is designed to keep cleaning as easy as possible. There are only 2 small parts which come in contact with the wet dough and need cleaning after each use. They are dishwasher-safe and easily accessible via the side door, and our video tutorial shows you just how easy it is!

What more can I do with my Rotimatic?
With Rotimatic, the possibilities are endless. Rotis, Masala rotis, Puri base, Pizzas base & more – all at just a touch of a button. With Rotimatic, get ready to enjoy the delicious flatbreads within seconds! Checkout out our recipes page here and get ready to be inspired.
Getting creative in the kitchen shouldn't be daunting. With Rotimatic doing most of the messy work for you (like mixing and kneading), you're allowed to flex your creativity in the kitchen and create some delicious and out-of-this-world creative recipes!
Thousands of current Rotimatic owners are using their Rotimatic to create hundreds of new recipes everyday! Visit our Rotimatic Owners community on Facebook to get a sneak peek into the endless possibilities of Rotimatic. No two menu will be the same again :).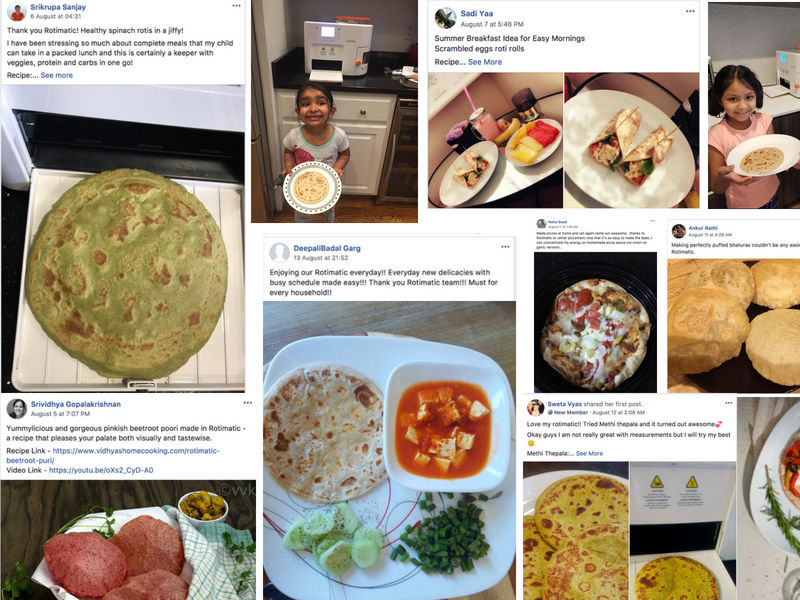 What's more? Your Rotimatic gets smarter with time.
The piece de resistance that makes Rotimatic a smarter gadget than most is that it's WiFi-enabled! That means your Rotimatic will keep getting smarter with time. How? It will auto-upgrade itself when we send any new software upgrades via the cloud. This means you will never miss on any new features or recipe upgrades in the future! Since we've launched Rotimatic, we've introduced puri and pizza bases with lots more in store for just one hardware!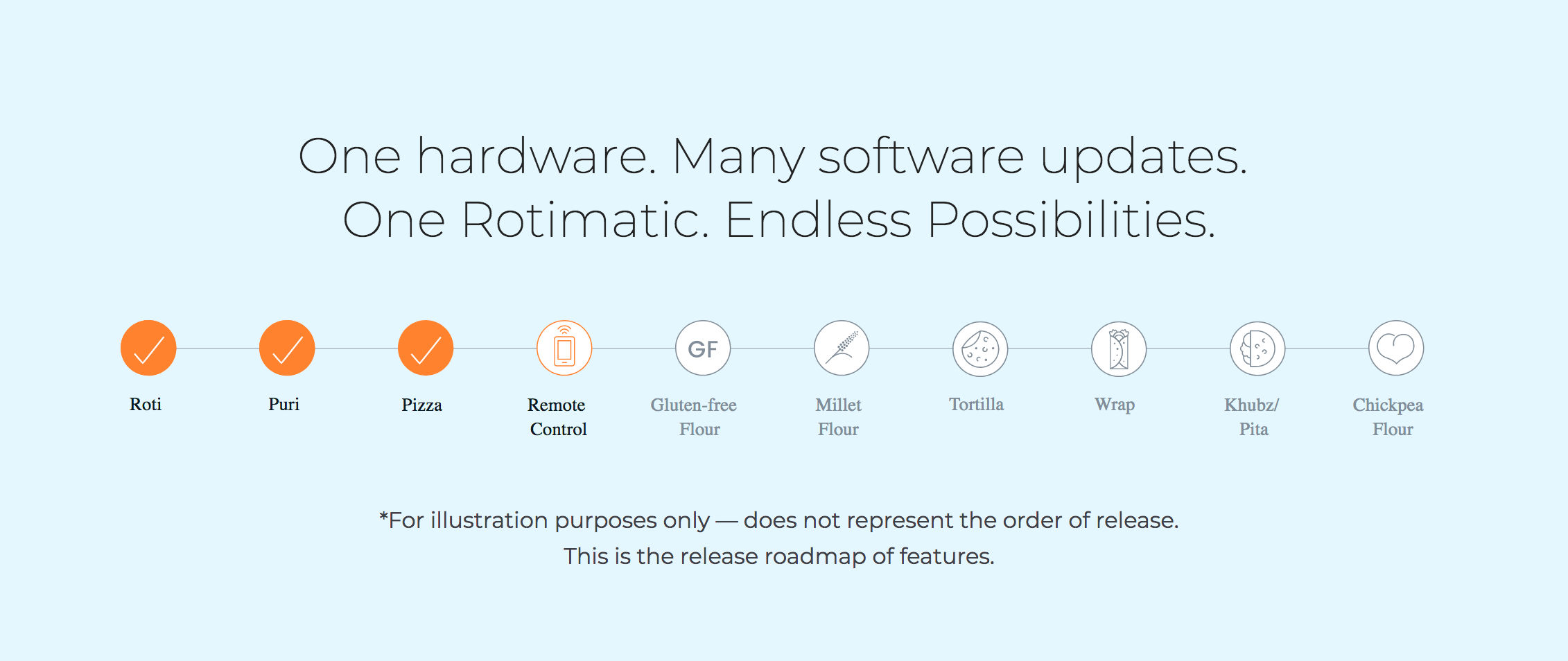 What is Rotimatic's 30-day money back guarantee and how does it work?
Rotimatic comes with a 30-day full refund guarantee. During this trial period, if you feel that the Rotimatic doesn't live up to your expectations, you can return it & we will refund you the full retail price. Moreover, we will pick up your Rotimatic from your house so you won't be charged for any return shipping and handling fee.
What are people saying about Rotimatic?
More than 40,000 families across 12 countries around the world are now enjoying hot, puffed rotis at home and absolutely love their Rotimatic! They have collectively made more than 25million rotis so far. Don't take our words for it, hear it from the current Rotimatic owners –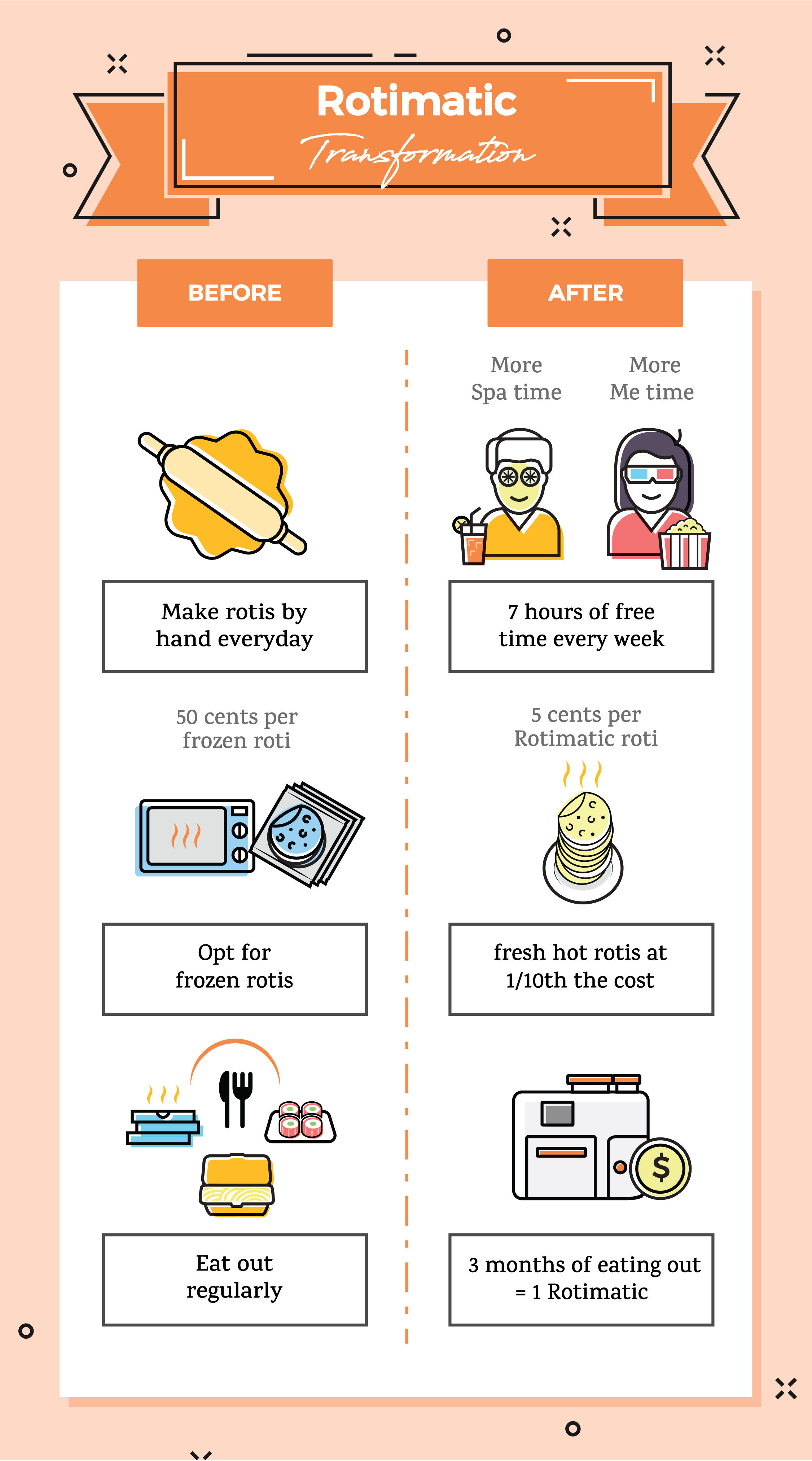 What about Rotimatic's warranty and after-sales support?
Your Rotimatic comes equipped with 1-year International Warranty. You can extend your base warranty coverage with RotimaticCare+ for up to 2 more years and continue enjoying your Rotimatic worry-free. What that means is that along with international coverage in countries we currently serve, we want you resting easy with service at your doorstep for any hardware woes. And for any software worries, you'll get 24 X 7 access to our tech experts via the Rotimatic app.
Rotimatic International Warranty gives you complete hardware and software coverage and enables you to enjoy –

For more details on the warranty, please visit our
warranty page here
.
How can I contact Rotimatic Support?
Our support team is literally just a touch away! Chat support will be available 24/7 via the Rotimatic App. Our technicians can remotely connect to your machine to troubleshoot and send software fixes via the cloud.
Within the warranty period, if you face any hardware problems, we shall either repair or replace your unit free of charge, to ensure you don't miss out on hot fresh rotis!
For any more questions on Rotimatic, you can visit our FAQs page or chat with the support team here. You can also check out our blog for more tips and information.
 
 
---
The post Europe Calling!: Everything You Want To Know About Rotimatic appeared first on Rotimatic.