Rotimatic in UAE – A Way of Life for the Indian Diaspora
Rotimatic brings families together – first in the kitchen, rediscovering the joy of cooking as a family, and then across borders where the familiar taste of roti promises comfort to one's day.
Roti, a healthy flatbread made from wholemeal flour, is consumed in over 15 countries and is a staple for many Indian families across the world.  For some, however, it is a way of life.
Rotimatic in UAE – A Way of Life
One Rotimatic owner, Adil, 44, has lived in Abu Dhabi for years. His wife and kids currently live in India where the kids are studying. While he certainly enjoys living in the UAE, he misses his beloved family fondly. And when it comes to meals, it's just not the same without the camaraderie of a family dinner.
"Meal preparation and rotis were never a problem when my family was here with me," says Adil, who enjoys making rotis with his wife for every single meal.
Preparing the dough for your rotis is an art form that has stood the test of time. Finding that perfect combination of flour, water and oil comes with practice and instinct, and is often rewarded with a perfect puffed roti that you know has risen well, inside and out. A crisp exterior that complements the warm and tender interior, and every tear of the roti threatens to melt in your mouth. For their family, that perfect roti represented heritage, and home. The rotis fondly remind Adil of mealtimes with his wife and children.
"Roti is a daily necessity for me. I cannot survive without it. What else could I eat?"
That's where the Rotimatic has come in handy for Adil. A fully automated kitchen robot churning out fresh, hot roti gives Adil peace of mind with every home-cooked meal he's now able to prepare with little to no effort. Launched at the start of 2018 in Dubai and Abu Dhabi (UAE) and other parts of the Middle East, it has changed the way families eat together.
With it, Adil is able to prepare his meals, condensing all the expertise and efforts of roti-making into a mere push of a button. After simply adding water, flour, and oil into respective containers, the machine then does all the work — kneading the perfect ball of dough, flattening it into a disc and then cooking it, packaged with that impeccable puff. And if you're on your way home from work, or craving seconds from the dinner table, you have the option of activating your Rotimatic with your smartphone, and collect your fresh rotis as they're ready.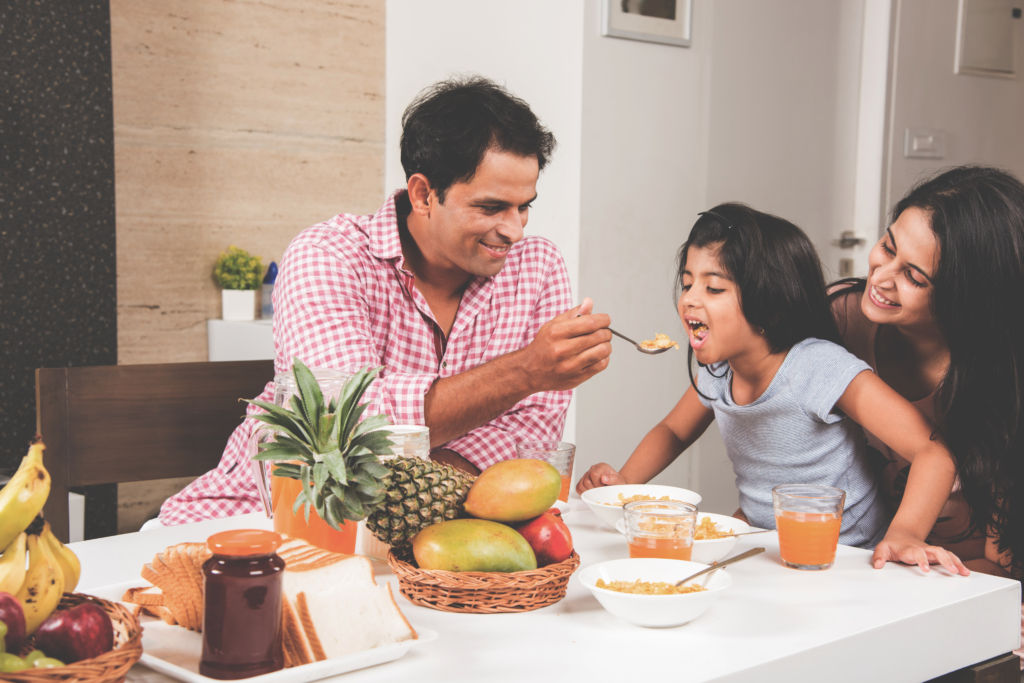 Eliminating the tedious process of making rotis from scratch has enabled Adil to enjoy fast yet healthy meals every day, each a treat to his lips with the familiarity of home and family.
Adil is just one of an impressive 7.8 million people who are working away from home in the UAE. For the many other men just like him living abroad without their family, the rotis make them feel like they're right at home with their families.
People in Dubai have Welcomed Rotimatic with Open Arms
For another couple living in Dubai, caring for their 5-month-old baby means having less time to prepare a wholesome meal in the comfort of their kitchen.
Bimal, 36, and his wife Sruthi, 31, used to dine out everyday out of convenience – a costly alternative with no control over the ingredients that go with their orders. With their Rotimatic, they now know exactly what ingredients are going into their food, and can rest assured knowing their meals are fresh, healthy, and cheap.
Furthermore, the machine isn't just limited to making rotis. Rotimatic's latest menu updates include puri and pizza bases, and the company has plans to release more types of flatbread options in the future, with the addition of gluten-free flour compatibility just around the corner.
With their own smart roti maker, Bimal and Sruthi now able to enjoy a variety of meals in the comfort of their own home, giving them precious time to spend with their newborn. "We get to spend more quality time with our baby," expresses Bimal, gleaming with a smile on his face.
The Rotimatic Owners Community on Facebook also serves as a platform for users to innovate and share their own interesting recipes – a creative outlet that encourages families to go beyond with creations like taco salad bowls, kesar milk poli, and vegan pumpkin pie, among many others. Whether you are in Dubai or in the UK, this is a one-stop avenue to discuss different types of Rotimatic recipes.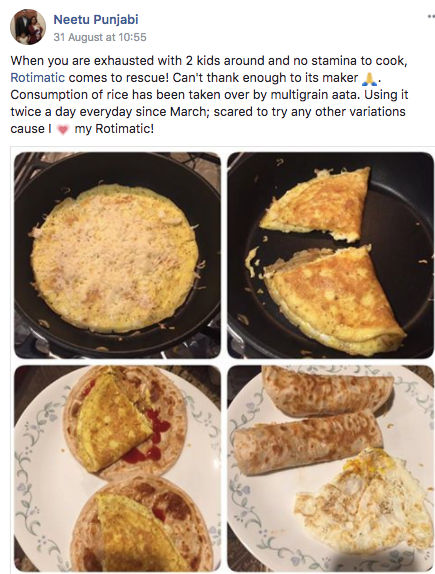 For more Rotimatic user reviews, you can read them here, or browse our YouTube playlist here.
The Rotimatic is now available across the USA, Canada, UK, Australia, New Zealand, Singapore, UAE, Oman, Bahrain, Kuwait, Qatar, and Saudi Arabia and Europe while we are working to bring the innovation into more countries in the future.
The post Rotimatic in UAE – A Way of Life for the Indian Diaspora appeared first on Rotimatic.