3 million garam garam rotis served
What started as a seemingly impossible dream, now is a reality. Today, Rotimatic has reached a mega milestone of 3 million garam garam rotis served, thanks to thousands of amazing owners all over USA! 
We are on a mission to rediscover the joy of wholesome, fresh home cooked food, and for us Indians, everything begins with a fresh garam garam roti! Our customers love Rotimatic for a number of reasons:
It's effortless, anyone can make rotis

.. LOAD the containers, choose the settings, press PLAY… PUFF comes a garam garam roti, in under 90 secs!

It's healthy & hygienic

.. they know exactly what ingredients go into making the roti. So no more preservatives, no more doubts about the quality of flour or ingredients.

It brings back the memories .. experience the magic of home-made roti, dal and subzi everyday, just like you did while growing up. Roti making is no longer the dreaded chore
Real Owners. Real Stories #rotimaticlife

Rotimatic has become an essential part of our customers' lives. Don't just take our word for it, check out their healthy #rotimaticlife at Rotimatic Owners Facebook group. A community board for Rotimatic owners around the world. Here the owners exchange videos, tips, healthy recipes and hacks with each other to optimise the efficiency of their Rotimatic. Some pair their roti with daal and sabzi, and some play around the versatility of roti. Over the last 8 months Rotimatic has successfully served 3 million garam garam rotis across homes in US and Singapore. It has enabled families to enjoy fresh rotis without having to spend a lot of time in the kitchen. We want to take this occasion to thank each one of you for being an earnest part of the #RotimaticLife and turning this dream into a reality. Here's to sharing homemade happiness.

Did you catch us at Union Square, San Francisco?
Our founders, Ms. Pranoti Nagarkar & Mr. Rishi Israni, reveal the inspiration and their journey to build Rotimatic from an idea 8 years ago to 3 million rotis today! Rotimatic has been featured in numerous media outlets over the last year. Some of them are as followed:
Zee TV: Pranoti chit-chats with Women Now's Ena Sarkar. Click here to see the video.
PC Mag: A Potential Game-Changer for Roti Loving Households. Click here to see the video.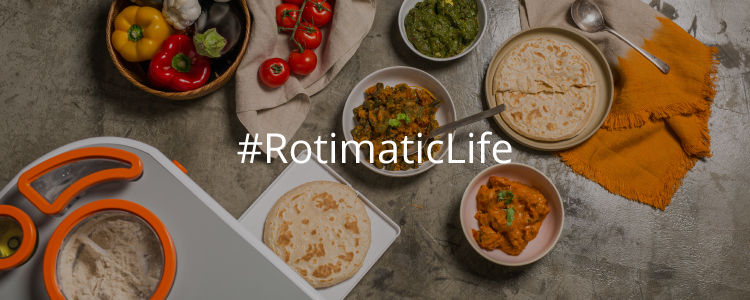 The post 3 million garam garam rotis served appeared first on Rotimatic.