The Rotimatic Clique: start of a healthy-eating revolution
It is not often that a product resonates with people so well that they become a community by themselves. When you buy Rotimatic, you are not just the owner of an intelligent robot in isolation. You are part of a large, welcoming family that is passionate about health, creativity, time and cost-effectiveness.
The Rotimatic Owners Facebook Group is a lively place where owners share their experiences and queries and other owners respond with motivation and solutions. Some of these hacks even surprise us and it is amazing how the Rotimatic fraternity has made Rotimatic a part of its own- spinning off new recipes, experimenting with flour, settings and each member bringing something unique to the table.
Neetu Punjabi's experience is exactly what we had wished for while creating Rotimatic: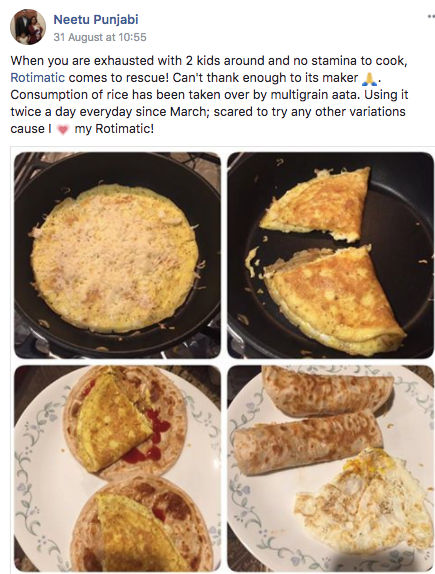 Parathas, puris, theplas with Rotimatic:
For Rotimatic, the vision has always been to make healthy living easier. It is the world's first fully automated flat bread making robot and we have just recently rolled out beta upgrades to prepare puris with Rotimatic. But our Rotimatic community is light years ahead of us! Take a look at the Facebook group for proof of their creativity and dexterity. From methi parathas, aloo parathas, masala puris, methi theplas to jowar bhakras– the innovations are endless! The group is hot with out-of-the-box ideas and inspires us in turn, to make the experience even better.
Aloo Roti with Rotimatic: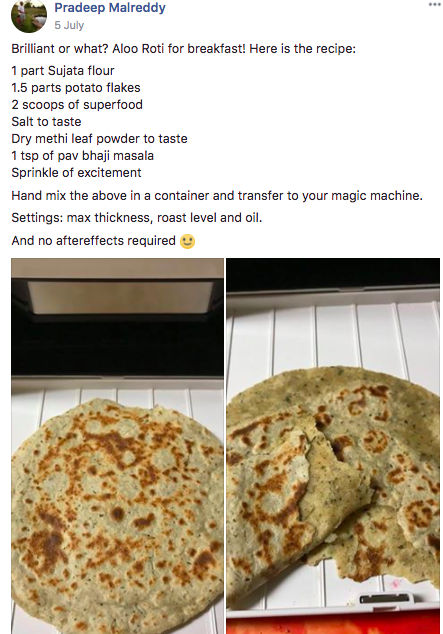 We vote brilliant! Kudos to Pradeep Malreddy for creative experimenting!
Methi Thepla with Rotimatic:
We love Grishma Patel and Divya Soni's knack for ingenious ideas!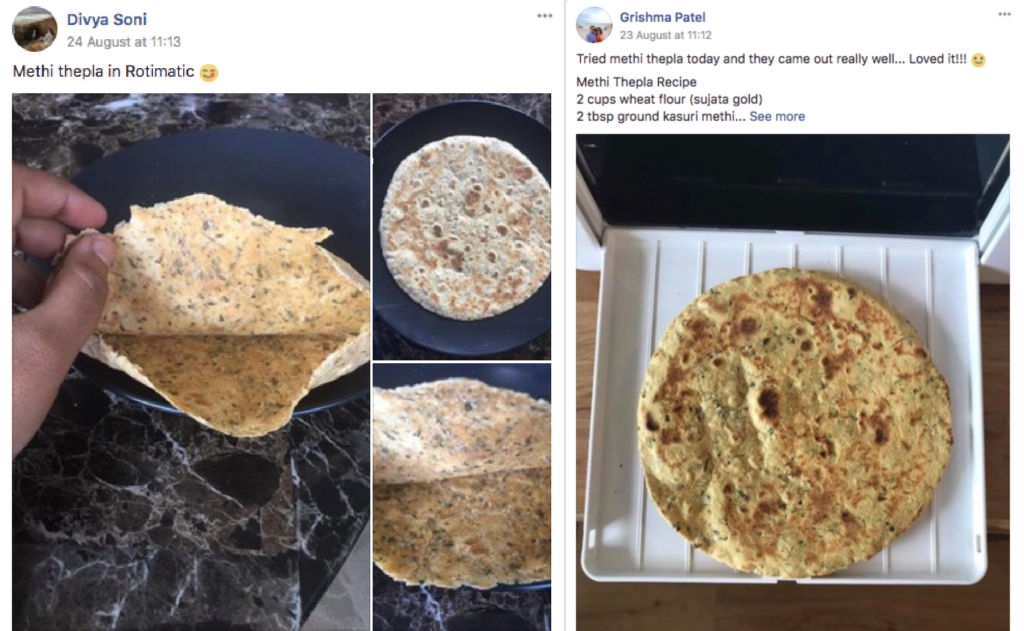 Apart from fascinating recipes, the power of the community to successfully channel their needs and desires into Rotimatic has been eye opening to say the least. While the current settings officially support six variants of wheat flour, but the passionate enthusiasts have figured ways to add more flavour and variety of their parties.
Keeping in mind their special dietary needs, they have themselves experimented and shared recipes for gluten-free brands, too. Rotimatic is an intelligent machine, which means it learns from its previous attempts to better its rotis and smoothen the experience. But our customers are not people who simply push a button and wait for the roti to slide out. They want more, design new ways to get more and it has been truly amazing to witness the zeal and creativity of this community.
Puris with Rotimatic: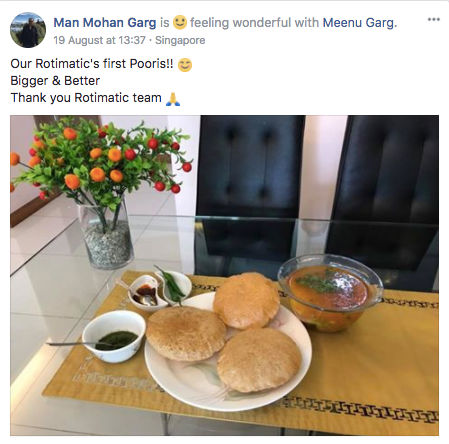 Cheers Man Mohan Garg! The beta puri program looks delicious!
When releasing major features such as enabling 'puris' with Rotimatic, we opened applications for a beta program so that users could help us improve. They were aware that it's still a test phase but the response for the community was overwhelming. We are glad to have a community who is as enthusiastic about Rotimatic's efficiency as we are. From helping new members set up their Rotimatic, to sharing updates on customer service and how to enjoy Rotimatic to the fullest, the community has been pivotal to the entire user experience of Rotimatic.
Here at Rotimatic, we have been blessed with folks who encourage each other to try new recipes, share tips, hacks and videos to help one another get the best out of their device. For more exciting tips, tricks and hacks for #RotimaticLife that has been tried and tested by our trusty customers, head to the Rotimatic Facebook page.
The Versatile Roti with Rotimatic: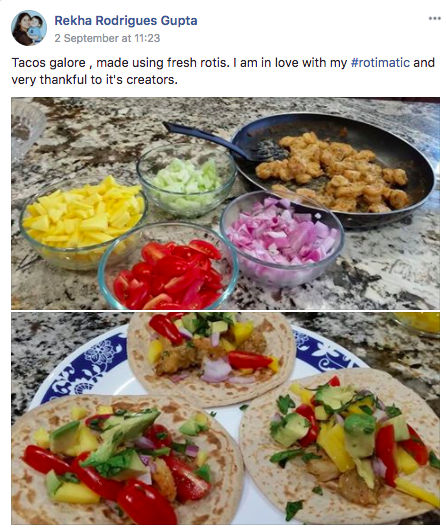 A big thank you to Rekha Rodrigues Gupta for this fresh meal! Healthy tacos, yum!
This makes us believe more strongly about the revolution that Rotimatic has evidently started. We receive a lot of kind comments showing gratitude and appreciation for inventing Rotimatic. We did invent the machine but it's this community, these proud owners who truly gave it LIFE!

The post The Rotimatic Clique: start of a healthy-eating revolution appeared first on Rotimatic.