What you should know before buying Rotimatic
As we are opening new orders in your country, we have spoken to many Rotimatic fans and understand that you want to know more about:
1. Reviews: what existing users in the US, UK, Canada, Australia, New Zealand, and Singapore are saying, especially about the taste of Rotimatic rotis. Read some of these customer experiences here.
2. Product: how Rotimatic works, what more can it make beyond rotis.
3. The 30-day full refund guarantee: how you can try before committing.
4. Warranty & Support: how to get help using and maintaining your Rotimatic.
To make it easier for you, we have addressed all these questions below.
1. Reviews: what existing users are saying, especially about the taste of Rotimatic rotis?
Roti quality is the biggest thing we obsessed about when designing Rotimatic, to ensure rotis from Rotimatic to meet the 5 criteria:
1. Fully puffed;
2. Fully cooked both outside and inside;
3. Perfectly round ;
4. Feel fresh, soft and homemade;
5. Remain soft when packed for lunch.
You'll have the freedom to experiment with different flour types and settings to get the best rotis for your taste. Stay in touch with the community to get tips (and hacks!) on how to best use your Rotimatic for fresh homemade quality roti every time.
Don't take our words for it. Hear it from the current Rotimatic owners.

Many have also posted their product demo and reviews online. Simply search on Facebook or Youtube for more reviews. For your easy reference, we have also compiled some reviews from the actual users here.
A year with Rotimatic in home across the world
2. Product: how does Rotimatic work?
Rotimatic is an unprecedented amalgamation of precision engineering, robotics and design to make the tedious and time-consuming process of roti-making fully automated. You just load fresh ingredients, and it does the rest.
See Rotimatic in action:

But, the piece de resistance is that it's WiFi-enabled! Which means your Rotimatic will keep getting smarter with time. It will auto-upgrade itself when we send any new software upgrades via the cloud. We recently introduced 'Puri' to the Rotimatic menu and there's so much more in store – pizza base, tortillas, et al. Get ready to say goodbye to the store-bought sliced bread.


3. The 30-day full refund guarantee: how does it work?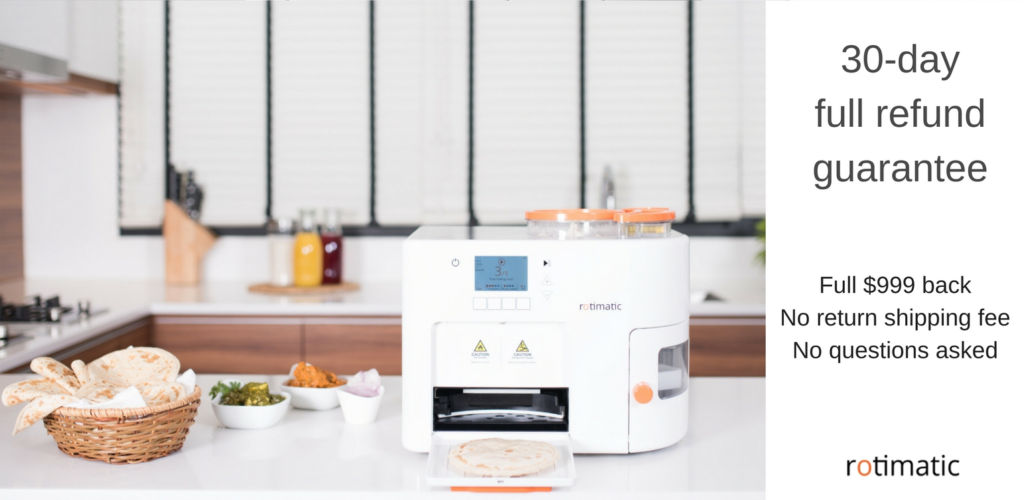 Rotimatic comes with a no-questions-asked 30-day full refund guarantee. During this trial period, if you feel that the Rotimatic doesn't live up to your expectations, you can return it & we will refund you the full retail price. Moreover, we will pick up your Rotimatic from your house so you won't be charged any return shipping and handling fee.
4. Warranty & after-sales support
Rotimatic comes with a 1-year free local warranty effective from the day you receive your Rotimatic. During this warranty period, all repairs and replacements related to regular use will be free of charge. Beyond the 1-year warranty, you also have an option to purchase extended warranty.
Chat support will be available 24/7 via the Rotimatic App. Our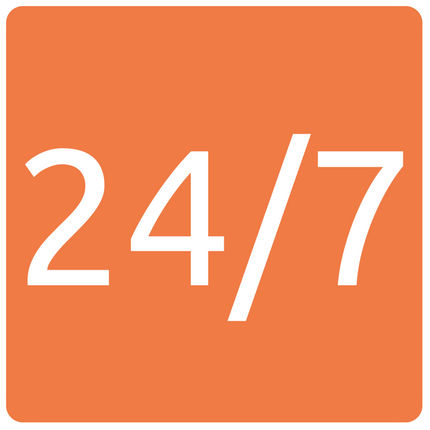 technicians can remotely connect to your machine to troubleshoot and send software fixes via the cloud. Within the warranty period, if you face any hardware problems, we shall either repair or replace your unit free of charge, to ensure you don't miss out on hot fresh rotis.
The post What you should know before buying Rotimatic appeared first on Rotimatic.