Rotimatic Review – Rotimatic For The People
Rotis are a pivotal and earnest part of an Indian's heritage, tradition, and of course diet. Prepared with love and finesse, there are times where only mum's rotis will do. So when something as innovative and revolutionary like the Rotimatic comes along, we can't blame one's reluctance to trust a robot with their rotis. Neither would we! But here's when we'd assure you that the 8 years of heart and soul that's gone into prototyping and building the Rotimatic were meant to curb those sentiments.
Technological advancements have allowed us to incorporate A.I. and IoT capabilities into an appliance, allowing for unprecedented features like remote troubleshooting and free recipe upgrades sent straight to your Rotimatic. A.I. and IoT capabilities might sound like technical jargon thrown into the mix to give a product more of an oomph, so we asked for a family's Rotimatic experiences to hear just what they thought of these enhancements – features, or frills?
A Tech Geek's Rotimatic
"I paid for my Rotimatic in USA early on in 2014 when they were raising funds for it on Kickstarter. I had to wait 2 years till I got my unit, and those 2 years only added to my anticipation. IoT, or the Internet of Things, capabilities are exactly what they sound like; embedding products or appliances with software to exchange data over the Internet. We've already been witnessing IoT capabilities in other household appliances – the air-conditioner, for example, but in a product that's meant to learn through IoT to cook like you, or better than you, I felt like I had to buy it, to believe it.
A smart home was once an expensive and intimidating dream, but A.I. and automation have gone on to not only make our everyday tasks simpler but somehow a little more fun as well. I don't know when I became the go-to guy for tech help in our family, but I suppose it's the same as running to my mom for 2 more rotis to go with my dinner. And if my interest and enthusiasm with technological innovation now saves mom a couple of hours a day, then hey, that's good for all of us!"
– Raj, 27
---
How much respite has Rotimatic brought to Raj's mom? We had to ask her herself!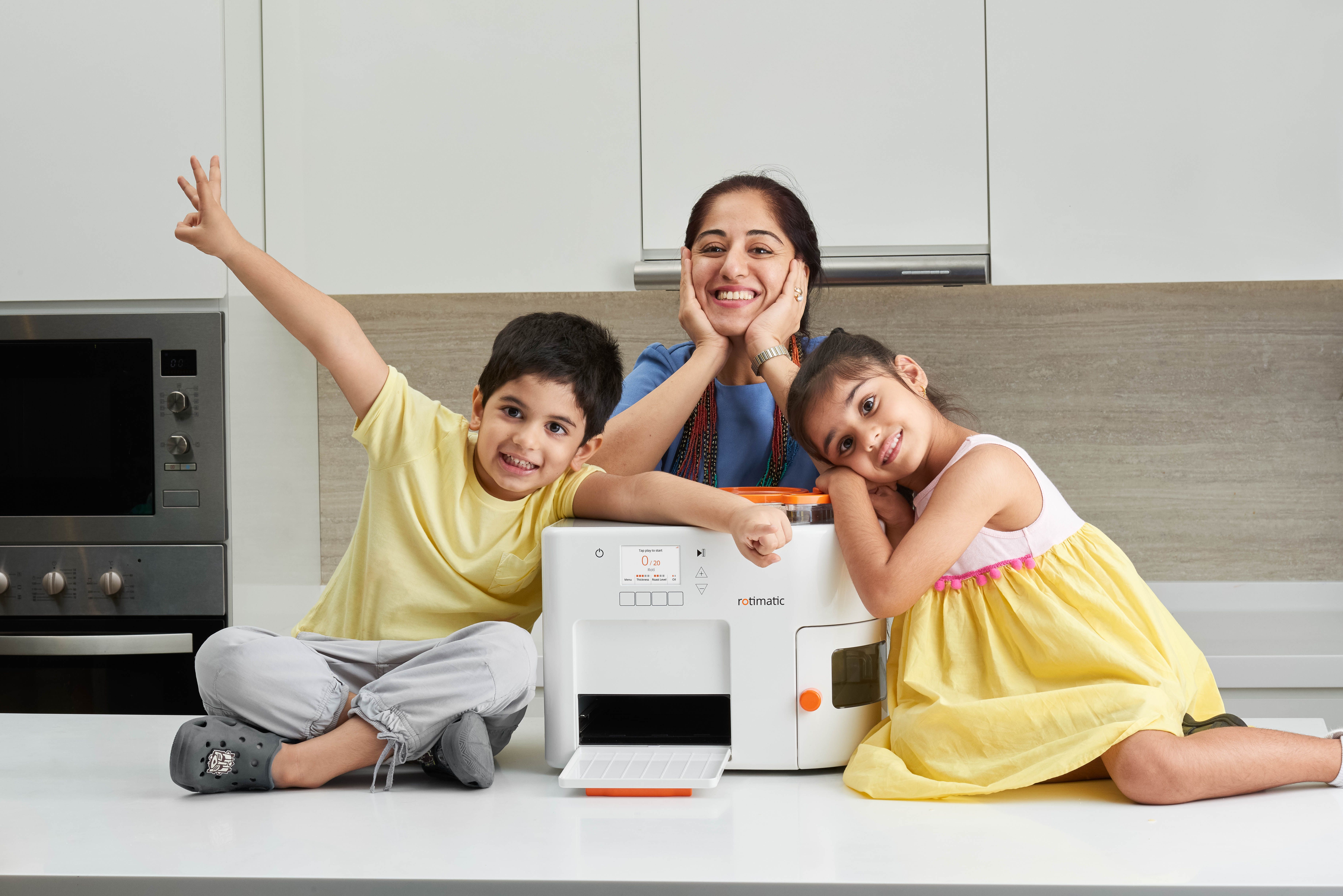 A Busy Mom's Rotimatic
"I never considered myself a "busy mom" until you put it to words! Yes, I do work most of the day and give tuition lessons in the weekend, so I end up with a 7-day work week. That means preparing rotis early in the morning, and then again right after work. I didn't have many complaints, you know? We were brought up to believe it's a duty we're fulfilling, and if I'm as good a cook as my family says my rotis are, I often find myself preparing and making rotis with a smile on my face.
All of that said, I never knew there was going to be a robot that could help me with rotis. "Automation" and "artificial intelligence" don't mean much to me, but Raj picked up on it quick and told me there was now something to make my days easier. And true enough, with our Rotimatic, things have gotten very much simpler. Little things like the extra hour in bed, or coming back home to a dinner already prepared – you can't put a price on that. 
– Seema, 53
---
Seema's initial distrust at a roti-making robot came with the disbelief at how something so new and current could learn an age-old skill that only gets perfected after years of practice. Besides, how could it possibly taste like mom's rotis? We ask her mom!
A Perfectionist's Rotimatic
"I remember my first roti. Couldn't tell you when that was, but I remember it wasn't round. It wasn't puffed, and it may have been slightly burnt. Since then I've only gotten better and cooked rotis first on a traditional tawa, and then an electric one. Today, all you have to do is push a button.
Is there a difference to the rotis? Of course. No machine or computer or robot will cook you a roti that tastes like mom's roti. But if it reminds you mom's roti at all, then it has to be very good!"
– Surinder, 78
---
To read more Rotimatic reviews of people in the USA, or indeed from any of the other 11 countries we are currently in, you can head here. You can also get your own Rotimatic right away if you click here! The Rotimatic price in USA stands at $999, with prevailing shipping fees.
The post Rotimatic Review – Rotimatic For The People appeared first on Rotimatic.